Archive for 'April, 2012'
23 results.
on
April 30, 2012
at
12:01 am
In case you want to do things with that third panel.
Hey, readers!  I'm gonna have an Artist Alley table at BotCon this weekend!  If you like both Dumbing of Age and Transformers, and you live near Dallas, Texas, you can find me there.
Have a big ol' Dorothy on Tumblr.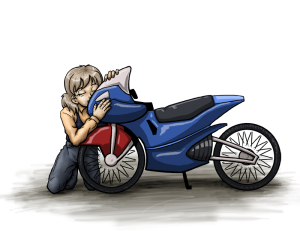 That's right, this is art of Joyce making out with Sal's motorcycle.  It's by Jackson Ferrell.  No judgments!  What machines we make out with in the privacy of our own homes should be our business and ours alone.
'Scuse me, I'm gonna need to borrow some tissue and some KY.