Archive for 'Blog'
170 results.
on
May 14, 2013
at
4:22 pm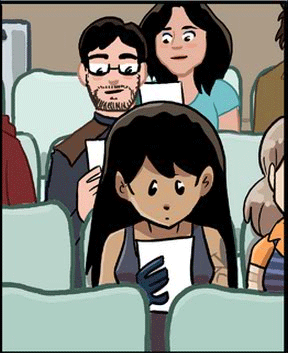 MOLOCHMACHINE MADE THIS OH MY LORDY LORD YES
by David
on
April 27, 2013
at
12:01 am
by David
on
April 25, 2013
at
2:23 am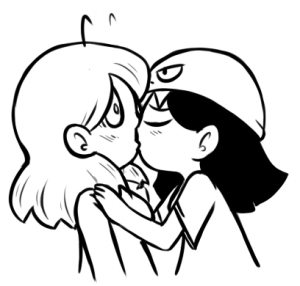 Seemed like appropriate art to pull from my Dumbing of Age fan art folder for this week.   It's by Yotomoe, as if you couldn't tell, you know, from the adorableness.  The title is mine, I guess I should say.
by David
on
April 20, 2013
at
12:01 am
I AM GOING TO BE IN CANADA NEXT WEEKEND.
This is entirely due to the awesomeness of Danielle Corsetto, who last-minute needed a boothmate, and the Blind Ferret Entertainment guys, who helped me get some of my merchandise into Canada so I actually have something to sell.  (It is a very complicated and potentially amazingly expensive process.)  Since it was such a close call, I won't have Shortpacked! books with me, but I will have a buttload of Dumbing of Age books and posters.  This includes the new Amazi-Girl Strikes poster and an even newer Dumbing of Age Cast of 2013 poster which I haven't shown on this site yet.  (Unless those get incinerated during customs inspections, since those are a late addition and I will be bringing them with me.)  Or throw any amount of money in my tip cup and I will be happy to doodle for you.  It will be a swell Canadian time!
and apparently my square creditcardreaderapp probably won't work up there so
man i'm gonna need some canada money
by David
on
April 9, 2013
at
10:38 pm
So the other day I was all like, oh, huh, you can animate in Photoshop, and then I went mad with power.
You'll probably have to click on these to see their full glory.  Oh, and here's a screencap of the Amazi-Girl ad at a larger size, before I shrink it down: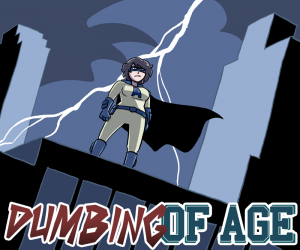 (Update: Apparently WordPress adds this image into the gallery whether I want it to be or not.  So, uh, don't try to get the one up above to do anything.)
by David
on
April 4, 2013
at
12:31 am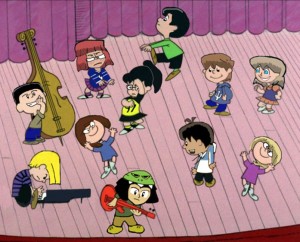 Holy crap, more birthday art for me!  This amazing thing is by MLBlue, who apparently knows that Peanuts is a pretty big throughway in my heart.  This particular traffic intersection makes me the happies.
by David
on
April 2, 2013
at
10:26 pm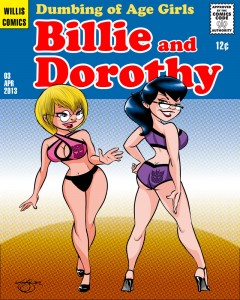 Lar DeSouza (Least I Could Do, Looking For Group) and I are Best Convention Buds.  He's not my Convention Wife like Joel Watson is, but he's at least a Convention Concubine.  And so he drew me some birthday art.  Addendum: He drew me some birthday art of Dorothy and Billie.  Addendum the second: He drew me some birthday art of Dorothy and Billie in swimsuits in a mock Betty-and-Veronica-style comic book cover.
maybe i have a new convention wife
by David
on
March 26, 2013
at
1:03 am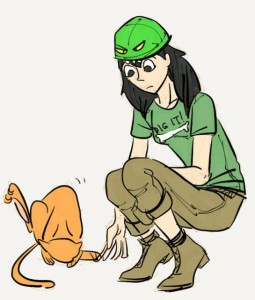 Studio Brassy has gifted us more art!  This time it's of Dina observing an orange cat goin' to licky-town.
Dina sometimes wears boots with heels when she wants to pretend to be a slightly taller dinosaur.
by David
on
March 23, 2013
at
1:52 am

Hey, Amber, check out your new faaaaaaaaaaaaaaaaaaaaaace.  The doctored image is courtesy of Dan Dubinsky, and it gave me a good guffaw.  If you wanna see Amber's original primate-style grumpy face, it's back here, of course.
by David
on
March 23, 2013
at
12:01 am