Archive for 'Blog'
247 results.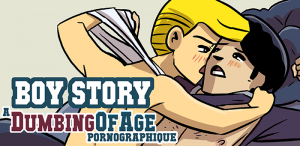 RIGHT NOW!
Slipshine has the next Dumbing of Age Pornographique: "Boy Story,"starring Ethan and Mike!  It's 16 pages, full color, full canon, and viewable by anybody with a Slipshine membership!
Your membership also gets you access to the ten previous Dumbing of Age Slipshine stories, plus 30+ stand-alone pages!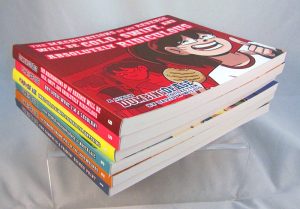 Use the coupon code BUTTS in the Dumbing of Age online store and get $5 off any order of at least $10!
Offer lasts 8 days!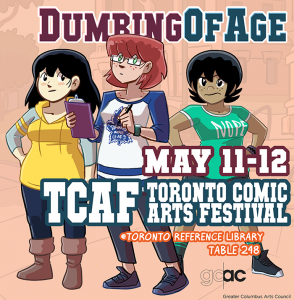 This Saturday and Sunday, I gonna be in CANADA!  Come see me at TCAF (Toronto Comic Arts Festival) in, you know, Toronto!  I'll be at Table 248, Second Floor of the Toronto Reference Library.  I'll have books!  I'll have magnets!  I'll have prints!  I'll have an everlasting need to visit locations filmed in Short Circuit 2!
my trip to canada funded in part by a grant from the greater columbus arts council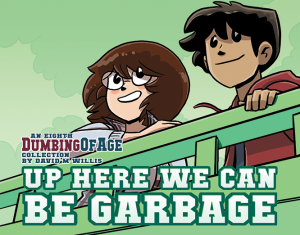 The Dumbing of Age Book 8 Kickstarter is here, and there's 15 days left to lock in your bid!
This book will collect "Year Eight," spanning the four storylines that start on September 1, 2017, and complete on August 30, 2018. This includes new commentary, behind-the-scenes artwork, 24 previously Patreon-exclusive bonus strips, and new character designs into an 222-page tome with luxurious glossy paper all bound up into a sturdy presentation!
And as of this writing, there's a number of character magnets you can pledge for: Joyce, Fuckface the Iguana, Dina, Carla, Amazi-Girl, Faz, Nash, Rachel, and Jason.  When the Kickstarter hits $50K, a Dorothy magnet will be given to everyone who pledges for mailable goods!  (aka, anyone who doesn't pledge for a digital-only reward, though there are now digital-plus-magnet tiers)
You can pledge for a book and one magnet, or you can shoot for a PICK THREE or PICK FIVE MAGNETS tier and choose which ones you want via address survey after the campaign is over.  Or you can go all-in and pledge for COMPLETE MAGNET POWER, which gets you one of each magnet unlocked by the end of the campaign.  There's still more magnets to be unlocked!  There's Walky at $45k, which is coming up very shortly, and Other Rachel at $55k.  And maybe some others, who knows!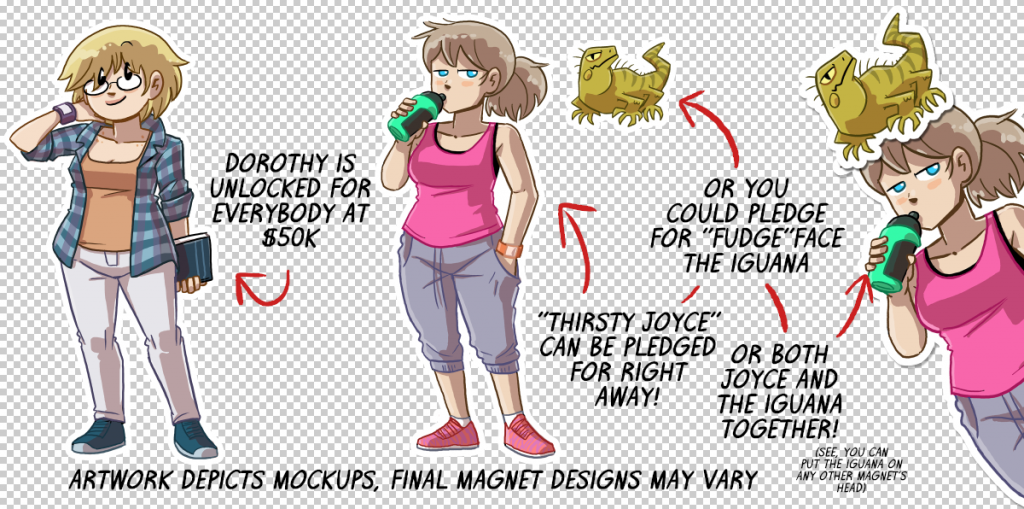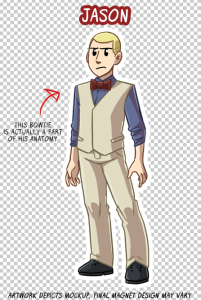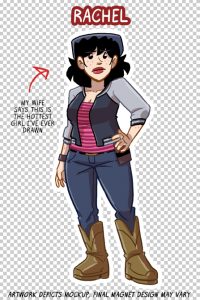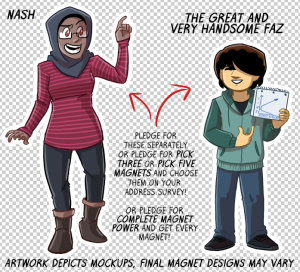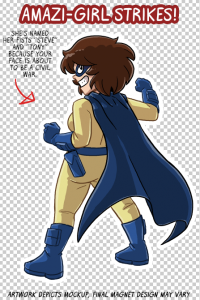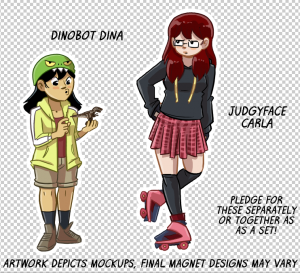 Tumblr's trying to go smutless (badly) this month, and as that ship sinks, Slipshine is trying to soften the blow by offering a pretty rare discount on memberships!  It used to be $25 for the introductory month, but this week it's only $10!  That's a pretty substantial savings, and I thought I'd remind you that I've got, like, ten stories on there.  All NSFW, all canon.  Here's a list of 'em: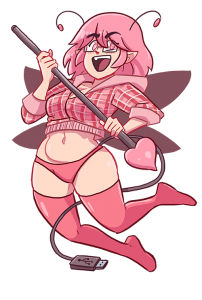 Walky Performs A Sex: The original!  Dorothy and Walky come in from the rain.
Mask Or No Mask: Amazi-Girl has a very good day with Danny.
Finally: Billie and Ruth relieve that building sexual tension like a volcano from Hell.
Head of the Class: Sal and Jason, probably!
Tales of Sinterest: An anthology!  Includes Roz, Sayid, and more.
To the End of the Line: Originally titled "Upside-Down on a Grappling Hook."  You fill in the rest.
Keep It Clean: Whoops it's Billie and Ruth again, but in the shower?????
Goddammit, Malaya: It's Malaya and Joe, which seems like a bad idea.
A Slipshine membership gets you access to all of them, plus all my other stand-alone pages!  And this week only, an incredible discount!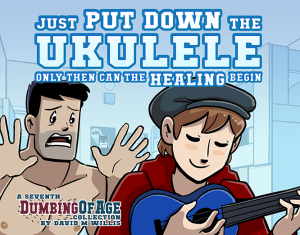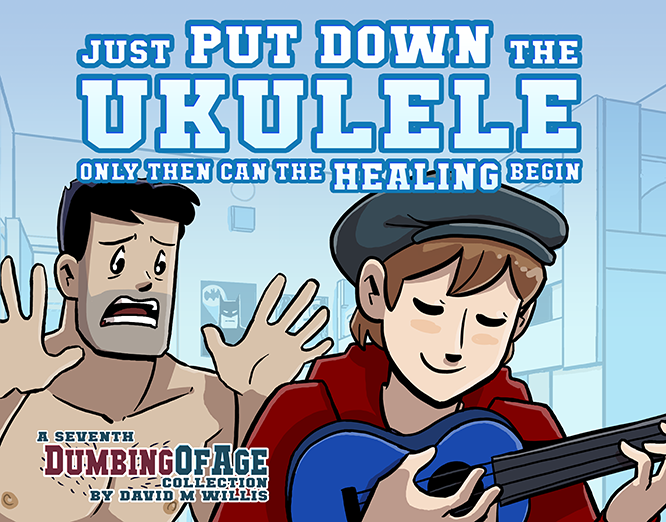 Just in time for the holiday shopping season, Dumbing of Age book 7 is now in the online store!  It's 228 pages and includes bios, strip commentary, a year's worth of Patreon bonus strips, and some other special features!  You can get it plain or doodled/autographed in.
Also check out the bundle of Books One through Six and the third collection of character magnets!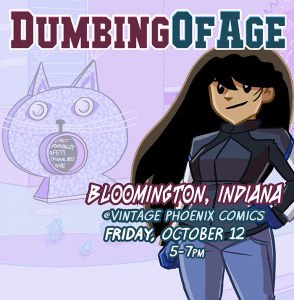 It's once again that time of year where I make my annual pilgrimage back to Bloomington, Indiana, where all the Dumbing of Age magic fictionally happens!  Mark Friday, October 12 on your calendars.  And, as always, you can find me at Vintage Phoenix Comics, from 5-7pm.  I'll bring books!  I'll bring magnets!  I'll bring an insatiable desire to rack up as many gifts from the "Cat Statue" Pokestop as I can!
and maybe i'll get to visit that new computer science building that i drew into the strip before it was completed in real life i dunno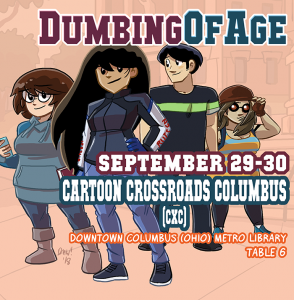 This Saturday and Sunday, I'm gonna be at Cartoon Crossroads Columbus (CXC) here in my very own hometown of Columbus, Ohio.  It's an annual comics convention held at the library downtown!  And, like, one of those real comics conventions, with actual comics people there.  There's bigtime comic book folks this year, like Brian Michael Bendis and Matt Fraction, and also us webcomic folks are represented, like Melanie Gillman, Ngozi Ukazu, and Blue Delliquanti.  And also, crazily, announced at the last minute is special guest Olivia Jaimes, the enigmatic new artist behind the newspaper strip Nancy.  She's gonna have a late Sunday panel and we don't even know who she really is, it's exciting!
It's also a incredibly nice-looking location, with lots of windows.  90% windows.  I mean, it's a library.  An amazingly-nice library.  I was there a few hours last year and it was just… cozy.
Anyway, I'll be there!  I'll be at table 6!  (It's first thing on the right hand side, can't miss me.)  I'll have books and magnets and probably some prints.
ADMISSION IS FREE
because it's in a library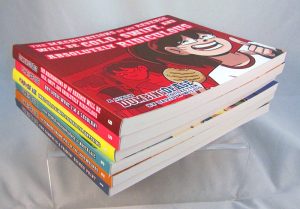 There's six Dumbing of Age books, and now you can get them all at once for a reduced price!  Just log on over to the Dumbing of Age online store, and you'll find the six-book combo listed there.  Get the whole thing (so far) at once!  It'll all come in two padded flat-rate envelopes, three books per!  For an extra $10 I will doodle/autograph inside them all!
For those of you overseas, there's a little extra bonus for you.  International shipping is way expensive, especially for TWO packages full of large heavy-ass books, so I've eaten the portion of the shipping costs.  It's down $15 if you live in Mexico/Canada, and down $20 to everywhere else!  So hop on that.  Consider it a "jeebus yes you bought six whole dang books from across the globe" special rebate. Don't forget you can add a Dina magnet to your order!
don't worry i will still love you if you only get one or two books