Archive for 'Blog'
242 results.
on
February 7, 2011
at
10:52 am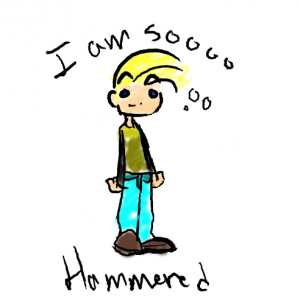 Yay, more fan art!  This one's by Jared from the forums.
Longtime readers of my webcomics might recognize this dress from before, originally featured in this now-ancient limited print:

It's Walky: Joyce in Dress by ~itswalky on deviantART
Those of you who want a bigger version of today's strip to crop up for your desktop wallpaper or something, as has been asked, I've uploaded that for you over at DeviantART as well: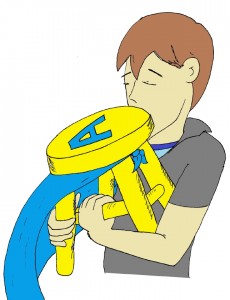 Do not judge their forbidden love.
Unless you're CaptainSwift (Department 34).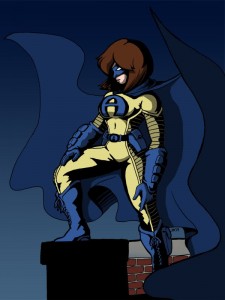 Amazi-Girl's gonna kick your ass!  …right after she's done posing on this rooftop.  Take your time, Amazi-Girl, you look great up there.  This one is by EmeraldBeacon, who had already endeared himself to me with his chibi Dion art.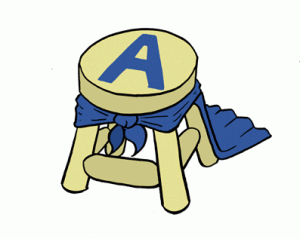 Touche, Mr. Daniel, touche.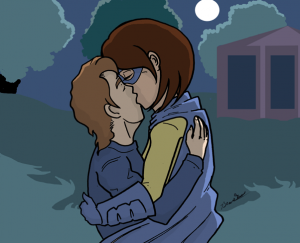 Here's more fan art by Brian Daniel of Shifter.  He envisions a future where Danny makes out with Amazi-Girl while she's standing on a stool.  It's a very specific fetish.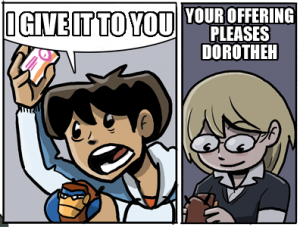 This little Photoshop hijack was done by Jen Aside, and you can find a thread about it in the forum!
So this is the infamous half-blender of Webcomic Rampage.  For those readers of mine who still haven't heard this story, let me retell it here.  I shipped two boxes of books to the Austin Dragon's Lair comic shop ahead of myself so that I could sell them to my fans.  One box arrived easy-as-you-please!  The other box had been opened, books removed, placed in a new box, with the books exchanged with half a blender.  HALF A BLENDER.  So, yeah.  Post Office lost/stole/ate my books, and gave me an incomplete blender in exchange.  That was fun!  But a good story, I guess?
But the sad, sobering reality is that losing those books cost me a potential few hundred dollars in sales.  That blows!  So to share this story and to help recoup my losses, since there's no real legal recourse for me to retrieve these books or my lost potential sales, I've doodled a bunch of my characters on the surface of this blender with a Sharpie. And you can own it. Keep in mind, it is an INCOMPLETE blender.  You will only get what you see here.  Just the bottom, with a plug.  There's no top half.   The blender also has some scuff marks at some of the edges where its silvery finish was removed in transit.  But on the plus side, there's now all these Shortpacked! and Dumbing of Age characters on it.  Sweet, huh?
I've left a spot up next to Ultra Car where the winner of the blender can request anyone they feel is important that I've forgotten.  (Which, as it turns out, will probably be Mike.  Man, how'd I forget him?  Oh well, you can request him should you win.  Or somebody else!  There's also no Dorothy, no Reagan, no Sal…) So, uh, yeah!  You can own this piece of dubious webcomics history.
Hey, look, it's a Walky/Billie fanfic by AgentKSilver! There is exactly as much casual swearing as you'd expect in a story set in senior high, which is a lot.  Find "Atop the High Wall" here in the forum.
Because I can, I've put a poll over on the right, between the intra-comic links and the Twitter box. Everyone important has shown up, so it's time to see who folks are most excited to see more of. I won't promise that I'm gonna be, like, beholden to it or anything. Mostly I'm just curious. I have my own ideas as to who's most popular, and I want to see if my suspicions match reality. (And even if I were beholden to it, there'd be a month-long delay anyway as we burn through my buffer.)
Select up to three characters and let's see who's in most demand.