Archive for '02 – Everything You've Ever Wanted Floats Above'
58 results.
Welcome To The Fuck Zone #15 is up now, and it features Malaya!  Malaya and some unknown penised person, I dunno.  Small cropped preview on the left as always, while the full image (and previous images) are available to Slipshine members!
Next week you get Billie and Ruth.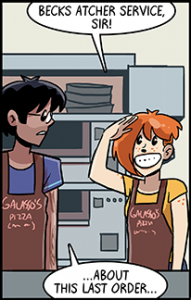 There's two new bonus strips for this month over at the Dumbing of Age Patreon!  The first, voted for by Patreon members, featured Penny (Jason's fellow math teaching assistant).  The second, chosen by me, features Sayid and Becky!  Bonus strips are viewable by any of my patrons, and those who pledge $5 or more per month get to see tomorrow's strip a day early.