Posts Tagged 'billie'
433 results.
on
July 15, 2014
at
12:01 am
I have a guest strip over at Jerk Jerques' webcomic of hipster coffee girls or whatever.
I'm going to be at the Laughing Ogre here in Columbus, Ohio, from noon until three!  Come say hello!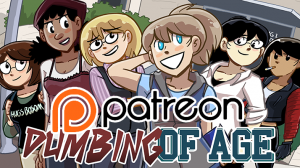 You asked for it, you got it — Dumbing of Age is on Patreon now!  It's where all the cool people are now, like my buddy Joel or my nemesis Jeph or that guy Gordon I mostly ignore.  But I'm there now, too, like some sort of awesome person.  And if enough people are into it, those people can get a bonus Dumbing of Age strip each month.  Click through for the deets.
(Also at the moment some folks can read tomorrow's strip on Patreon early.  Not something that'll happen every day, but it's happening today.)