Posts Tagged 'billie'
505 results.
KICKSTARTER OVER!  Hooray and thanks, everyone!  I hope everyone loves their book and their magnets once they're produced and get sent out.
The annual poll for who to doodle inside the book can be found on the right-hand column under the comic, or just to the right.  You might be wondering "where is so-and-so?" but the likely answer is "they are the default doodle for a previous book."  I have a lot of books.  Danny and Joe go in the two Roomies! books; Mike, Robin, Ethan, Leslie, and Amber go in the five Shortpacked! books; and Amazi-Girl, Dina, and Sal get doodled in the previous three Dumbing of Age books.  And so we have the folks remaining to choose from.  Choose someone easy to draw!  Sal was a godsend last year.  You folks who chose Dina for Book 2 remain a thorn in my side.  *shakes fist*
The Dumbing of Age Book 4 Kickstarter just reached yesterday, which means so far we've unlocked a buttload of character magnets, including both Ruth and Billie, appropriately(?) enough for today.  The next goal is $50k, at which point everybody who pledged for snail-mailable goods gets a free Joyce character magnet!  Stuff for nothing!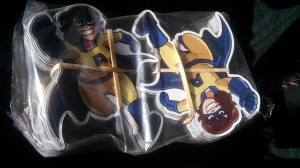 Hey look, it's Amazi-Girl magnets!    You can get one (or one of another character) by pledging to an appropriate tier over at the Dumbing of Age Book 4 Kickstarter!   Supplies are limited!
We've unlocked both Sunday and Saturday updates again through the Dumbing of Age Book 4 Kickstarter! Hooray for another year of 7-days-a-week comics!