Posts Tagged 'joyce'
922 results.
It's true, readers!  Before Dumbing of Age, I drew other webcomics! With that in mind, may I draw your attention towards this Kickstarter for the first collection of It's Walky! material, which was a comic featuring some early versions of Dumbing of Age characters fighting aliens under the employ of the government.  Yeah, I know, weird, whatever.
I drew this webcomic from Christmas 1999 through late 2004, but the story in the book is a collection of the first few months.  Also the book features the redrawn version of this storyline which I drew in 2005 and 2014.
there are also some character magnets, if you're into that sort of thing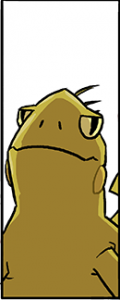 The winner of this month's Patreon bonus strip poll was Fuckface!  So there's a strip about Fuckface for all Patreon pledgers over at the Dumbing of Age Patreon, just puttin' that out there.
Patreon Patreon Patreon.