Posts Tagged 'joyce'
782 results.
The Dumbing of Age Book 4 Kickstarter just reached yesterday, which means so far we've unlocked a buttload of character magnets, including both Ruth and Billie, appropriately(?) enough for today.  The next goal is $50k, at which point everybody who pledged for snail-mailable goods gets a free Joyce character magnet!  Stuff for nothing!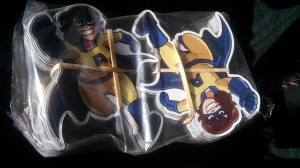 Hey look, it's Amazi-Girl magnets!    You can get one (or one of another character) by pledging to an appropriate tier over at the Dumbing of Age Book 4 Kickstarter!   Supplies are limited!
Yay, the Dumbing of Age Book 4 Kickstarter funded in under 12 hours!  Of course, there's still a bunch of stretch goals left, like keeping our weekend updates going.  Saturdays have already been extended, but we need a little more for Sundays to continue as well.  We've also  unlocked our second character magnet pledge level, Dina, so now you can pledge to get either her or an Amazi-Girl magnet.  Or pledge big to get all of the ones that will unlock by the end of this campaign!
Thanks, everybody!