Posts Tagged 'joyce'
792 results.
KICKSTARTER OVER!  Hooray and thanks, everyone!  I hope everyone loves their book and their magnets once they're produced and get sent out.
The annual poll for who to doodle inside the book can be found on the right-hand column under the comic, or just to the right.  You might be wondering "where is so-and-so?" but the likely answer is "they are the default doodle for a previous book."  I have a lot of books.  Danny and Joe go in the two Roomies! books; Mike, Robin, Ethan, Leslie, and Amber go in the five Shortpacked! books; and Amazi-Girl, Dina, and Sal get doodled in the previous three Dumbing of Age books.  And so we have the folks remaining to choose from.  Choose someone easy to draw!  Sal was a godsend last year.  You folks who chose Dina for Book 2 remain a thorn in my side.  *shakes fist*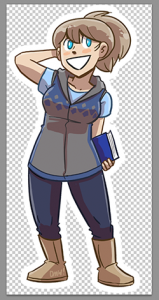 The Dumbing of Age Book 4 Kickstarter reached $50k, which means something wonderful: everyone who pledged for a real, physical, made-of-paper book gets a 2″x4″ Joyce character magnet thrown in extra, no extra charge!  So now every pledge level from $20 up gets both a book and a magnet!  Huzzah!
A mock-up of the Joyce magnet is on the left.  It'll be die-cut, meaning everything everything surrounding the thick white outline's getting cut away, like with these Amazi-Girl magnets.  After the Kickstarter is funded and the books are printed and they get here in the fall and I mail them out to you, just open up your book and there she'll be inside.
And if you want another magnet to come with your Joyce magnet, you can up-pledge to one of the other character magnet pledge levels!  You can get Walky or Sal or Dina or Amazi-Girl or Ruth or Billie, or both Ruth and Billie.  There are also a few slots left in the COMPLETE MAGNET POWER pledge level where you get one of every single magnet that's unlocked by the end of the Kickstarter.