Posts Tagged 'joyce'
476 results.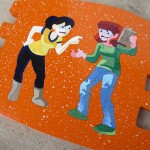 Hey, want to own this sweet Billie/Ruth puzzle art by Chris Yates?  Then check out the auction!  Seriously, it's mega rad and one-of-a-kind.
STORE NEWS!
1) I have decided to offer digital commissions.  There are a range of prices depending on what you're looking for!
2) I have a sale.  Use code JANUARY13 for 10% off any order of anything in the store.  This includes books, posters, Joyce and Walky! strips, and even that new thing I mentioned in part 1.  Sale lasts until Sunday!
I wrote and drew this whole Gender Studies segment that runs this week and into next within a frantic 24-hour period before I left for San Diego for Christmas.  LET'S SEE HOW IT HOLDS UP.