Posts Tagged 'joyce'
514 results.
My guest week is still running over at Girls With Slingshots as Danielle travels across the country!
Also, the Dumbing of Age Patreon hit $1k yesterday!   Just under $500 more until Patreon pledger folks get a bonus monthly DoA strip.  Until then, they merely get tomorrow's strip early.  Pfffft, whatever.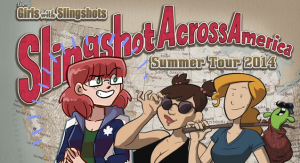 HEY GUYS DANIELLE CORSETTO (girls with slingshots) IS LIKE DRIVING ACROSS THE WHOLE DAMN COUNTRY AND SHE'S GONNA BE IN COLUMBUS, OHIO, ON SUNDAY, JULY 6,  AT THE LAUGHING OGRE (comic book store) WITH ME, DAVID WILLIS (dumbing of age) AND ALSO KATIE VALESKA AND LORA INNES
THAT'S JULY 6
4 TO 8 PM
JUST SO YOU KNOW
also i'll be at the ogre again on july 13 from noon to three, but without danielle and the others