Posts Tagged 'sal'
37 results.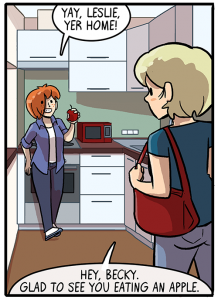 November's first Patreon bonus strip is up, starring Leslie!  AS YOU DEMANDED!  All Patrons can go check it out.
And *gentle nudge* you can also upgrade to seeing tomorrow's strip a day early every day! That comes in handy sometimes.  And maybe suddenly, when you least expect it!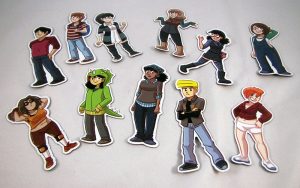 IT'S CYBER MONDAY!  Which means that as a Cyber Person, by law, I have to do some sort of fancy sales deal today with my wares.  Well, shoot, here we go:  Every online store order I receive today will also come with a free character magnet!  You don't get to choose the magnet, but you get a free, random character magnet included in your order.  Order a book?  Free magnet.  Order six books?  Free magnet.  Order some magnets?  Free magnet!  Order Joyce and Walky! subscription page HTML links?  …. sure, I'll mail you a magnet, why not.
Happy cyber!
I'm selling my Masterpiece Shockwave on eBay, and I'm dropping a note here in case anybody wants one of those.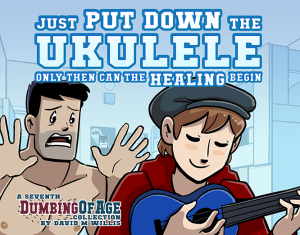 Hey, it's now the holiday shopping season, and so Dumbing of Age Book 7 is available for sale in the online store!  As per usual, you can buy Book 7 plain or pay a little extra to get it doodled and signed in by me!
If Book 7 doesn't satisfy, try out the Six Book Combo deal and the new magnet set that went up yesterday.
doo da doo see tomorrow's strip today on patreon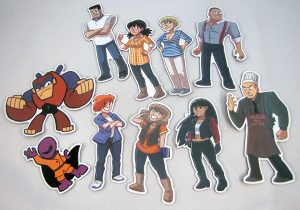 The week of Holy Crap It's Christmas Now is nigh upon us, so I've put up last year's batch of Book 6 Kickstarter magnets in the online store!
A set of 10 Dumbing of Age character magnets, it includes Joyce, Becky, Sal, Galasso, Joe, Jacob, Robin, Leslie, Monkey Master, and Dexter.  (I have about five each of Dina, Carla, and Jocelyne remaining, and I need to keep those for unforseen emergencies and such, so those three will not be available.)  Most are about 4″ tall, but they vary.  Galasso, for example, is quite a bit larger!  He's a big guy.
You can also buy the three magnet sets together as a bundle.  While supplies last!
Another completely random, casual reminder that one can read tomorrow's strip early on Patreon.