A limited-time Slipshine membership discount!
on
December 7, 2018
at
11:25 pm
Tumblr's trying to go smutless (badly) this month, and as that ship sinks, Slipshine is trying to soften the blow by offering a pretty rare discount on memberships!  It used to be $25 for the introductory month, but this week it's only $10!  That's a pretty substantial savings, and I thought I'd remind you that I've got, like, ten stories on there.  All NSFW, all canon.  Here's a list of 'em: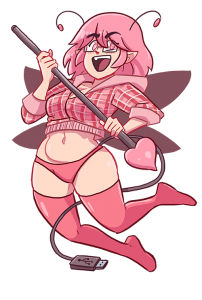 Walky Performs A Sex: The original!  Dorothy and Walky come in from the rain.
Mask Or No Mask: Amazi-Girl has a very good day with Danny.
Finally: Billie and Ruth relieve that building sexual tension like a volcano from Hell.
Head of the Class: Sal and Jason, probably!
Tales of Sinterest: An anthology!  Includes Roz, Sayid, and more.
To the End of the Line: Originally titled "Upside-Down on a Grappling Hook."  You fill in the rest.
Keep It Clean: Whoops it's Billie and Ruth again, but in the shower?????
Goddammit, Malaya: It's Malaya and Joe, which seems like a bad idea.
A Slipshine membership gets you access to all of them, plus all my other stand-alone pages!  And this week only, an incredible discount!