NEW: "Quarter Century Joyce" limited print!
on
September 10, 2022
at
12:01 am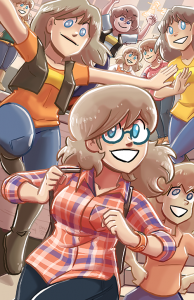 It's been twenty-five years of Joyce!  That's a whole dang quarter of an entire-ass century!  And so:
We've put a whole buttload of Joyce on a poster.
She's been a college student, a SEMME agent, a college student again, and then a college student with glasses!  Just running that whole gamut.
This 11″x17″ cardstock gloss poster will be signed and numbered.  It'll come to you in a big flat cardboard envelope.  Limited to just 75 pieces!  Get 'em while they're hot adorkable.