Posts Tagged 'amber'
108 results.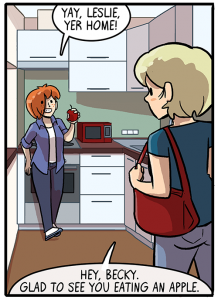 November's first Patreon bonus strip is up, starring Leslie!  AS YOU DEMANDED!  All Patrons can go check it out.
And *gentle nudge* you can also upgrade to seeing tomorrow's strip a day early every day! That comes in handy sometimes.  And maybe suddenly, when you least expect it!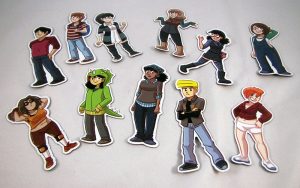 IT'S CYBER MONDAY!  Which means that as a Cyber Person, by law, I have to do some sort of fancy sales deal today with my wares.  Well, shoot, here we go:  Every online store order I receive today will also come with a free character magnet!  You don't get to choose the magnet, but you get a free, random character magnet included in your order.  Order a book?  Free magnet.  Order six books?  Free magnet.  Order some magnets?  Free magnet!  Order Joyce and Walky! subscription page HTML links?  …. sure, I'll mail you a magnet, why not.
Happy cyber!
I'm selling my Masterpiece Shockwave on eBay, and I'm dropping a note here in case anybody wants one of those.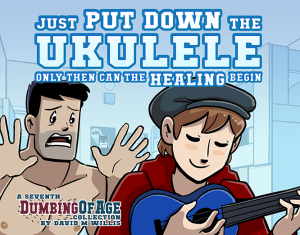 Hey, it's now the holiday shopping season, and so Dumbing of Age Book 7 is available for sale in the online store!  As per usual, you can buy Book 7 plain or pay a little extra to get it doodled and signed in by me!
If Book 7 doesn't satisfy, try out the Six Book Combo deal and the new magnet set that went up yesterday.