on
March 20, 2022
at
12:01 am
Saturday, March 26:
HOLD ON TO YOUR BUTTS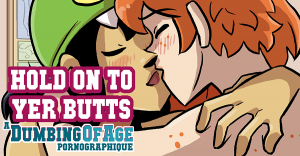 18 full pages!  Probably definitely NSFW.   We're talkin' Naked Times.
Special bonus: All previous Pornographiques are being remastered (resized, reuploaded)!  And there's, like, ELEVEN previous of those, so this new one'll make it an even dozen!  It's a whole friggin' lot.   A metric ton of smut.
This Saturday, you can leave your hat on.