Posts Tagged 'robin'
76 results.
Yesterday was Boxing Day, and so for this week's Welcome to the Fuck Zone, y'all got Ruth and Billie.  If you look over to the left, there's the usual banner ad preview.   It was kind of hard to carve out a preview image from this one that didn't have some combination of primary or secondary sexual characteristics on there, for the usual attempt at a semblance of work-safeness.  So enjoy some FRIGGIN' ELBOWS, I GUESS.
SPECIAL HOLIDAY SALE EVENT THINGAROONIE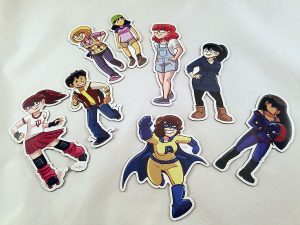 Every* order I get in the online store this week, lasting from last Monday to the end of Sunday two days from now, will get a free character magnet included!  Just thrown right in there.  You can't choose your magnet — it'll be random — but, hey, free character magnet!  Buy a book?  Free magnet!  Buy a buttload of books?  Free magnet!  Buy magnets?  STILL A FREE ADDITIONAL MAGNET.
So, yay!
*does not include buying the links to Joyce and Walky! comics, because i can't throw a magnet into an email