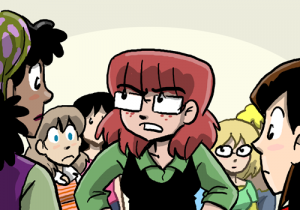 Dumbing of Age is a webcomic about college freshmen in a co-ed dorm at Indiana University, starring a Christian homeschooled girl and her atheist best friend.
If you're a reader of other works by David Willis (Roomies!, It's Walky!, Shortpacked!), you'll like this webcomic as well!  It stars some familiar faces in new situations.  If you're not familiar with his other webcomics, that's even better!  Why?  Dumbing of Age is its own separate continuity, with no story ties to any previous works.  It's basically a reboot, if reboots usually ran concurrently with the original universe.  I just wanted to write all my characters in college, minus fifteen years of baggage, okay?
Dumbing of Age currently updates Monday through Saturday.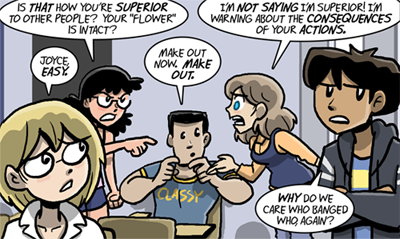 Quick FAQ for commenting and other stuff:
1) Be nice to other people.  You don't have to agree with them, but don't call them morons.  Thankfully, this happens very very rarely because this isn't YouTube, but I think I should establish this as a ground rule, regardless.
2) Please remember that not everybody reads my other comics. Dumbing of Age is intended to be a stand-alone work and is set in its own separate continuity, and so talking bunches about the old stuff is not only pointlessly distracting, but has been proven to be confusing to new readers.  When this gets out of hand, I reserve the right to delete that stuff.
3) It's pronounced "Dee-na."
4) Dumbing of Age is not set in any particular year.  I only say this because every time some pop culture reference shows up, someone is all "OH HEY HOW IS THIS POSSIBLE AREN'T WE STILL IN 2010???"  No.  We are not.  The comic moves slow, but it operates on comic book time.  This webcomic is not gradually going to become a period piece.
5) Joyce is autobiographical.  Consider this information before goin' off on me about how I don't know anything about Christians or whatever.
6) Asking if Ethan is gay will always get your comment removed.  I totally mean it!  Try it.  It will disappear.
7) (Don't try it.)