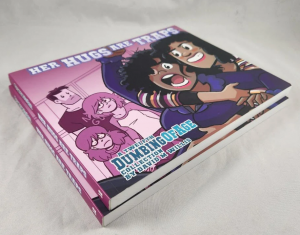 Turkey Time is over and not only is it Folgers Siblings Time again, but it's also CHRISTMAS SHOPPING SEASON NOW AND FOREVER and so that means the new book is now available in my online store for purchase for everyone!  Dumbing of Age Book 12: Her Hugs Are Traps is here!  Seasons Tidings, Happy Holidays, etc.
let me copy-paste my webstore's write-up down here, like a professional
This 224-page full-color book includes the entire seventh year of strips (four full storylines) from August 2021 through August 2022! There's commentary! There's cast bios! There's bonus features! There's a year's worth of bonus strips from Patreon! There's a Foreword by Steve Horton! You can also pay extra to get it doodled in and autographed, because this is America.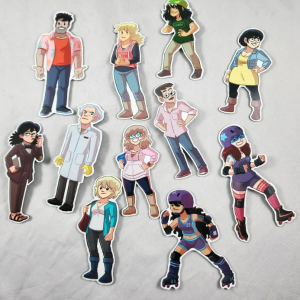 There's also last year's Kickstarter Magnet set, or at least what's left of it to sell.  We're down an Amber!  You can find that here: Dumbing of Age Character magnet set of 11 (Book 11)
Now, this weekend there's a coupon code to ease you into your holiday shopping.  If you use code THANKS20, you can lift 20% off any order over $20!  that's right you have to buy at least one book, that's how i getcha
Anyway, that code'll last until Sunday night.  Head on over to The Store!