Archive for 'Blog'
270 results.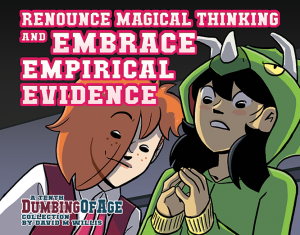 The Dumbing of Age Book 10 Kickstarter is live!
This book will collect "Year Ten," spanning the four storylines that start on August 18, 2019, and complete on September 9, 2020. This includes new commentary, behind-the-scenes artwork, and new character designs into an 236-page tome with luxurious glossy paper all bound up into a sturdy presentation.  Our biggest book yet!  And there will be a foreword by Seanan McGuire!
And, of course, as always, there will be more character magnets.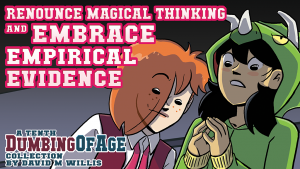 The Book 10 Kickstarter is ready for launch, probably this coming Monday, March 28, and there's now a Dumbing of Age Book 10 Kickstarter PRE-LAUNCH page that'll let you click a button to notify you when it goes live!  Soon!  SOON!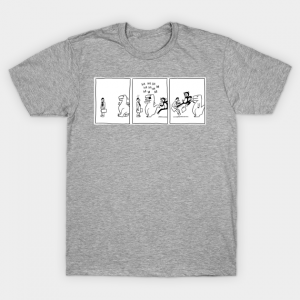 Everyone knows before you even start publishing your comic, you need to have all your merchandise ready to go.  That's Comicking 101!  So come blow all your money on JAWsome t-shirts and mugs and masks!  This comic will definitely keep updating past the first week!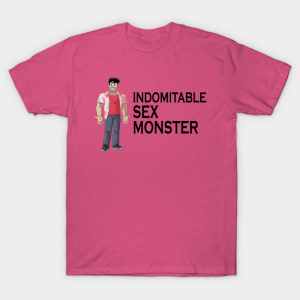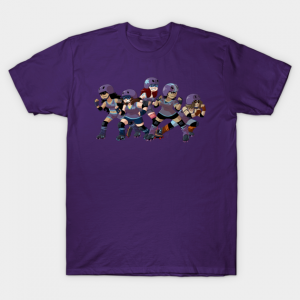 The fun thing about POD tshirts is that you can throw up a design because you feel like you should and it's perfectly okay when absolutely nobody buys it.  I'm looking at you, Indomitable Sex Monster.  A number of people greater than zero may buy the Roller Derby Team t-shirt.
(Also available as masks and mugs????)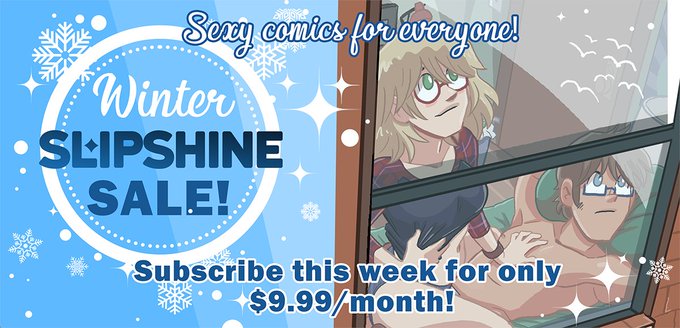 Sexy comics for EVERYONE!  This week only, skip the initial sign-up fee and subscribe to Slipshine for only $9.99 a month from now until FOREVER!  Over 100 original erotica series from the best in the business, with over 24,000 pages in our archive!  That means for less than ten bucks you can read all 10+ of my totally canon NSFW comic stories (totaling about 200 pages)!   Check us out today!
Update: SOLD OUT!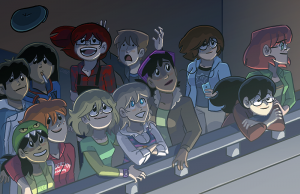 Celebrating ten years of Dumbing of Age is this new limited print: Ten Garbage Years!  Everyone's all congregated on Garbage Roof in the middle of October, staring into…. the FUTURE.  These babies are 11″x17″ glossy cardstock, numbered (1 to 45) and signed.  I will mail them in a very large cardboard envelope.  Get 'em before they run out!
If plain ol' printed art ain't your thing, then there are way too many alternatives over on my TeePublic store.  T-shirt, mug, face mask?  They're probably available.  Probably.  This design is 35% off for the next two days.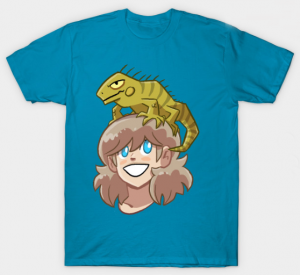 There's some new stuff today in the Dumbing of Age TeePublic store!
A new t-shirt: "Iguana On Your Head!"
A new…. mask??? It's a Joyce smile mask, for the outsides.
And in fact, like, apparently a "mask" option was automatically added to, like, everything in my store at some point, so look around, I guess.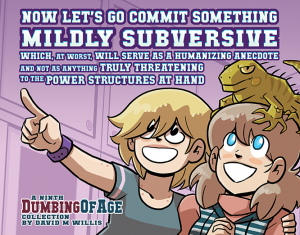 Now Let's Go Commit Something Mildly Subversive Which, at Worst, Will Serve as a Humanizing Anecdote and Not as Anything Truly Threatening to the Power Structures at Hand, aka Dumbing of Age Book 9 (let's just call it "Book 9") is now up for Kickstartering!  See, it's that time of year for us again, plus a month or so, because World Be Crazy, but we're trying to do this anyway!
Book 9 is 216 pages!  It's got the usual strip commentary!  It's got bonus art and rejected strips!  It's got 24 Patreon-only strips!  It's got a foreword by Dork Tower's John Kovalic!!!
And, as per usual, we've also got magnets.  You can pledge for Sal and/or Amber to start, and a free Sarah magnet for everybody unlocks at $35k!
Anyway, pray the post office still exists when this comes out later this year.