Posts Tagged 'roz'
131 results.
Thanks to everyone, re: the Kickstarter!  We're doin' a Book 10!
You can stop paying attention to down here for a while.
But not until after you read this: There's a poll down to the right where you can help choose Book 10's default doodle character!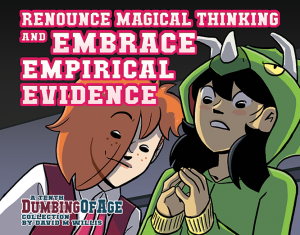 The Dumbing of Age Book 10 Kickstarter is live!
This book will collect "Year Ten," spanning the four storylines that start on August 18, 2019, and complete on September 9, 2020. This includes new commentary, behind-the-scenes artwork, and new character designs into an 236-page tome with luxurious glossy paper all bound up into a sturdy presentation.  Our biggest book yet!  And there will be a foreword by Seanan McGuire!
4 days to go!