Posts Tagged 'dorothy'
627 results.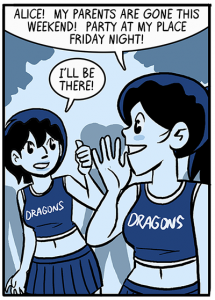 January's first Patreon bonus strip is up, and it's about ALICE!  Everyone voted for Alice!  Remember Alice?  Anyway, all Patrons can go check out the new bonus strip at the Dumbing of Age Patreon.
And, hey, you can also upgrade to seeing tomorrow's strip a day early every day! That comes in handy sometimes.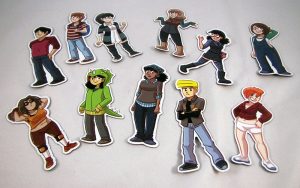 IT'S CYBER MONDAY!  Which means that as a Cyber Person, by law, I have to do some sort of fancy sales deal today with my wares.  Well, shoot, here we go:  Every online store order I receive today will also come with a free character magnet!  You don't get to choose the magnet, but you get a free, random character magnet included in your order.  Order a book?  Free magnet.  Order six books?  Free magnet.  Order some magnets?  Free magnet!  Order Joyce and Walky! subscription page HTML links?  …. sure, I'll mail you a magnet, why not.
Happy cyber!