Posts Tagged 'becky'
437 results.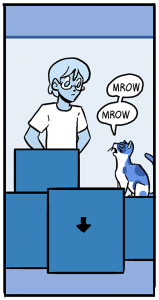 It's Jocelyne time again over in Dumbing of Age Patreon Bonus Strip Land! Also, Her Cat time. Yes, blues means it's a flashback. All patrons can come see!
also if you up your pledge you can read tomorrow's strip today etc etc
Speaking of late, check out this Something*Positive strip by my dear friend Randy.