Posts Tagged 'amber'
597 results.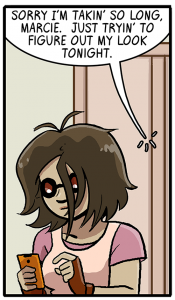 Every month at the Dumbing of Age Patreon there's two new exclusive bonus strips — one that patrons get to vote on, and another that's my choice!  This month, patrons voted overwhelmingly for Marcie, and as a sweet bonus you also get a little Malaya.  You can read this month's new bonus strip and the backlog of literally hundreds of previous bonus strips at the Dumbing of Age Patreon!
Also, if you pledge up to $5 or more per month, you can read tomorrow's strip a full day-and-five-minutes early, every night like clockwork!
Thanks to everyone, re: the Kickstarter!  We're doin' a Book 10!
You can stop paying attention to down here for a while.
But not until after you read this: There's a poll down to the right where you can help choose Book 10's default doodle character!