Posts Tagged 'sal'
460 results.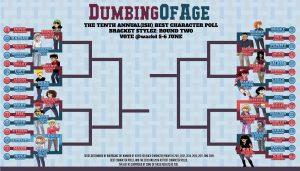 Wack'd's Best Dumbing Of Age Character poll has finished, what, Round 1?
Y'know, whatever the first column of brackets is.  That's round 1, right?  Before we pair the winners versus the other winners, and that's Round 2?  Look, I don't understand the terminology behind these things.
I believe the survivors so far are Dina, Jocelyne, Walky, Mike, Amber, Ruth, Leslie, Joyce, Becky, Jacob, Sierra, Carla, Billie, Dorothy, Sarah, and Sal.  Click through above to vote on the second round!
UPDATE: YES, ROUND 2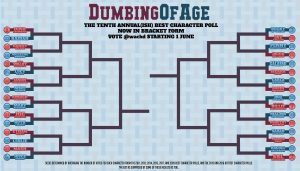 Wack'd's Best Dumbing Of Age Character poll CONTINUES!
The first column of the bottom right quadrant should go live today!  Roz V Billie!  Malaya V Dorothy!  Sarah V Marcie!  Rachel V Sal!  Batman V Superman: Dawn of Justice!!!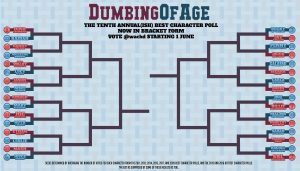 Wack'd's Best Dumbing Of Age Character poll CONTINUES!
The entire first left hand side has gone through its first round of battles, with … everything being pretty lopsided along expected routes (Dina versus Raidah?  GUESS!!!!), except Leslie/Ethan which is… dang close as I write this.
I believe the first column of the upper right quadrant goes live today!  It's, what, Becky/Faz, Penny/Jacob, Galasso/Sierra, and Carla/Robin?
LET THEM FIGHT.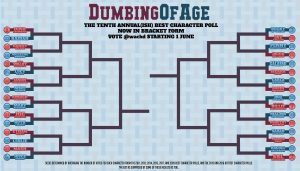 Wack'd is running a bracketed Best Dumbing Of Age Character poll on their Twitter starting YESTERDAY, and … it's fun and I'm excited they're doing this!!!!  Dumbing of Age is turning TEN soon, y'all.
Wack'd has taken the polling results from previous BEST CHARACTER polls on this site to determine, SCIENTIFICALLY, how to match folks up, and Day 1 saw Dina versus Raidah, Jocelyne versus Danny, Walky versus Lucy, and Jason versus Mike.  You can… probably guess how most of those turned out.  Today, I believe there'll be four more battles unleashed!  Go vote for them!