Posts Tagged 'faz'
46 results.
I'm returning to (okay I already live here) Columbus, Ohio, this weekend!  Cartoon Crossroads Columbus 2019 (CXC) is located within the dreamy halls of the Columbus Metro Library downtown, and you can find me at the upstairs exhibitor area on Saturday, September 28, from 11am-5pm, and Sunday, September 29 from 1pm to 5pm!
(yes, those are all the available exhibitor hours, i'm not skimping you)
(it's a pretty quick and breezy convention, i enjoy it)
I'll have books and magnets and myself at Table 26!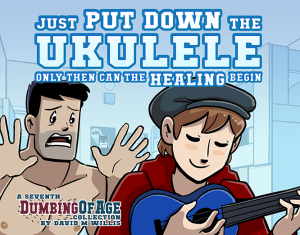 The
Dumbing of Age Book 7 Kickstarter
has hit $45K, which means a sneak peek at a
future Dumbing of Age strip
has been unlocked for everyone to look at early! I put it to a vote, and the strip from
July 2
was the winner. If you wanna check it out, it's the 8th update to the Kickstarter.
Next scheduled stretch goal is at $50K, when we unlock free Ruth character magnets for everyone who pledges for physical goods!
THE SEVENTH DUMBING OF AGE KICKSTARTER IS GO!