Posts Tagged 'sierra'
67 results.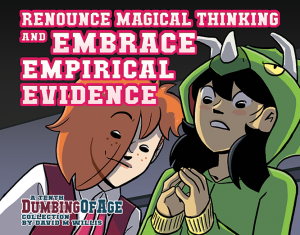 The Dumbing of Age Book 10 Kickstarter is live!
This book will collect "Year Ten," spanning the four storylines that start on August 18, 2019, and complete on September 9, 2020. This includes new commentary, behind-the-scenes artwork, and new character designs into an 236-page tome with luxurious glossy paper all bound up into a sturdy presentation.  Our biggest book yet!  And there will be a foreword by Seanan McGuire!
6 days to go!
The Dumbing of Age Book 10 Kickstarter continues!  We're past $56K, working our way up to $60K, when we unlock the next character magnet: ERIC (the fingerguns guy)!
ONE WEEK left!  Seven days!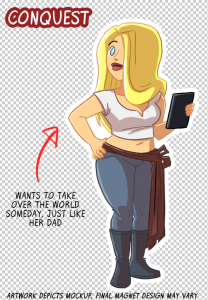 The Dumbing of Age Book 10 Kickstarter passed $55K this morning, which means that the CONQUEST MAGNET pledge tier is unlocked!  If you've gone in for a COMPLETE MAGNET POWER tier, consider her added to your ginormous pile of magnets.  If you want her and only a handful of other magnets, there's PICK THREE and PICK FIVE MAGNETS tiers available!
Three Twitter polls this weekend (it's complicated) all indicated that who you want to see at $60K for the twelfth (and final??????? maybe???? we'll see) magnet is Eric, aka the fingerguns guy.  To be honest, if you list four options in a poll and one of them's marked "the fingerguns guy," that's probably going to be the winning option, huh.
One week left!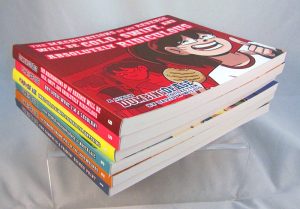 It's CYBER MONDAY you guys.  And that means, uh, I have a coupon code.  For my online store.  Remember my online store????  Well, if you don't, I have one.  Input CYBER in the proper field during checkout, and you'll get 10% off any order you make in my store tomorrow!  From now until 3am EST (midnight PST) Tuesday morning.
Happy shopping!