ROOOOFs!
on
September 23, 2010
at
2:42 pm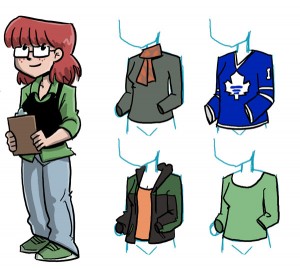 I'm not sure why Ruth was the hardest to get in the mood for drawing alternate clothes for.  I had a more difficult time thinking of her wearing something other than the first-day's outfit for some reason.  The green and black is basically perfect.  Not any other dumb stuff.
But now that I have the hockey jersey in her arsenal, though, I've changed my mind.  That's totally Ruth.  She will check you.  And not out.
You will suffer grievous wounds.