Excuse me, would you like to hear more about Slipshine?
on
May 19, 2018
at
11:10 pm
Did you know that I've drawn nine NSFW stories for Slipshine?  And that they're all canon?  Did you know I've also drawn 32 stand-alone pages of NSFW art to accompany them?  Just checking, because my overlords would really like you to know, just in case you didn't!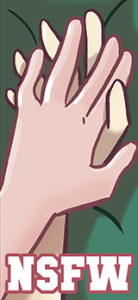 Here's a quick run-down of most of them!:
Walky Performs A Sex: The original!  Dorothy and Walky come in from the rain.
Mask Or No Mask: Amazi-Girl has a very good day with Danny.
Finally: Billie and Ruth relieve that building sexual tension like a volcano from Hell.
Head of the Class: Sal and Jason, probably!
Tales of Sinterest: An anthology!  Includes Roz, Sayid, and more.
To the End of the Line: Originally titled "Upside-Down on a Grappling Hook."  You fill in the rest.
Keep It Clean: Whoops it's Billie and Ruth again, but in the shower?????
…and I'm in the middle of doing a Joe/Malaya one.  Need to finish that one up, I'm like four pages in.  And one TBD for, what, August?  *checks*  Yeah, August.  I'll keep you posted.
A Slipshine membership gets you access to all of them, plus all the other stand-alone pages!
And now you all are fully informed.  Carry on.