Dumbing of Age Book 8 now in the online store!
on
November 28, 2019
at
8:55 pm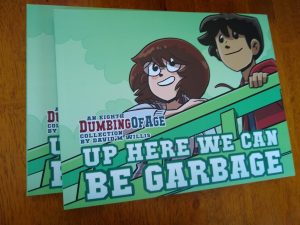 It's CHRISTMAS SHOPPING SEASON NOW and so that means the new book is now available for purchase for everyone!  Dumbing of Age Book 8: Up Here We Can Be Garbage is here!  Seasons Tidings, Happy Holidays, etc.
let me copy-paste my webstore's write-up down here, like a professional
This 228-page full-color book includes the entire seventh year of strips (four full storylines) from September 2017 through August 2018! There's commentary! There's cast bios! There's bonus features! There's a year's worth of bonus strips from Patreon! There's a Another Foreword by Jeph "butt.church" Jacques! You can also pay extra to get it doodled in and autographed, because this is America.
Book 8 and more can be found in the online store!