Dumbing of Age Book 10 now in the online store!
on
November 19, 2021
at
5:03 pm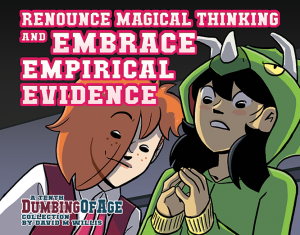 It's CHRISTMAS SHOPPING SEASON NOW and so that means the new book is now available for purchase for everyone!  Dumbing of Age Book 10: Renounce Magical Thinking and Embrace Empirical Evidence is here!  Seasons Tidings, Happy Holidays, etc.
let me copy-paste my webstore's write-up down here, like a professional
This 234-page full-color book includes the entire seventh year of strips (four full storylines) from August 2019 through September 2020! There's commentary! There's cast bios! There's bonus features! There's a year's worth of bonus strips from Patreon! There's a Foreword by Seanan McGuire! You can also pay extra to get it doodled in and autographed, because this is America.
Book 10 and more can be found in the online store!