on
March 28, 2021
at
12:01 am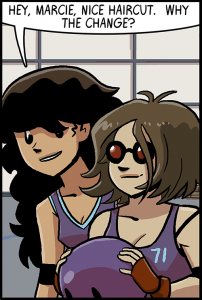 March's first Patreon bonus strip is about MARCIE and about getting a haircut after having grown your hair out for a while. All patrons can come read it at the Dumbing of Age Patreon!
And remember, you can always pledge up to read tomorrow's strip today!
The Dumbing of Age BOOK TEN Kickstarter is going live very soon!  If you to be notified at launch, come check out the Book 10 Kickstarter Pre-Launch Page!