on
April 19, 2021
at
12:01 am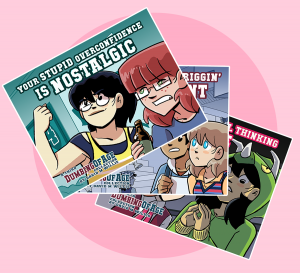 I'm just about out of the original run of Book 3, so the Dumbing of Age Book 10 Kickstarter is giving me a chance to reprint it!  The reprint of Book 3 will have a new cover, presented to the left!  There's a number of ways to pick it up along with your Book 10 during this Kickstarter campaign:
You can put down a pledge for it via the TEN AND THREE (either plain or extra) tiers
You can get Book 10 plus Book 3 and last year's Book 1 reprints by pledging for the TWO REPRINTS AND A BABY ( either plain or extra) tiers!
If you've pledged for one of other tiers (like for the magnets and such) and want the Book 3 reprint, add $20 to your pledge and let me know the dilly in your address survey later!
Just 9 days remaining!