Cartoon Crossroads Columbus (CXC) appearance October 9!
on
October 3, 2022
at
8:42 pm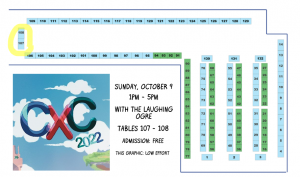 Oh Em Ef Jee, am I… making a public appearance?  What fresh heck is this?
Cartoon Crossroads Columbus (CXC) returns this weekend in Columbus, Ohio, at the downtown Metro Library, and though I don't have my own table this year, I have been invited as a guest to The Laughing Ogre's table!  I'll be there from 1pm through 5pm on Sunday, October 9.  They'll be at tables 107 and 108, which are the ones in the furthest back, around the curve.  Please come say hello!  As I mentioned, it's in a library, so admission is friggin' free!  You can just walk in like a maniac.
And you don't even have to come for me.  It's a proper rad-ass comics and arts festival.  You could find a billion interesting things to do and see across the weekend!  I'm probably the worst thing there.