NSFW Patreon news: Walky/Joyce hanky-panky comic
on
November 16, 2023
at
9:31 pm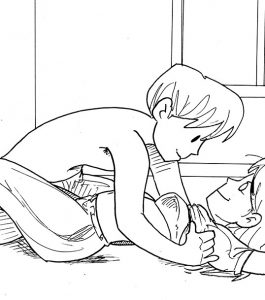 Hey, you probably know I have a Patreon where you can get bonus Dumbing of Age comics and maybe read tomorrow's strip a day early.  But fewer people know I've got a second NSFW Patreon where sometimes I draw naked people!  I thought I'd bring up that I've finished uploading a 14-page Walky/Joyce sexytimes comic (basically a prototype Slipshine Pornographique) that I drew for my then-girlfriend/future-wife all the way back in 2005 that I'd never shown anybody ever!  But now it's shown.  And it's over there at the NSFW Patreon.
yeah i know, walky/joyce seems like a crazy-ass pairing 18 years later, and it honestly feels like different people entirely at this point (they had superpowers and fought aliens and got to age into their thirties!!!), i dunno.  the pre-dumbingofage-verse was a wild place.
but the sexytimes comic exists!
and now you can read it, etc etc
if you're over 18, i should probably mention
because, again, sexytimes