Archive for 'Blog'
249 results.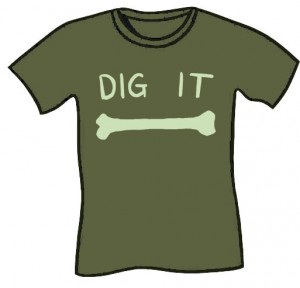 It's a t-shirt you can buy!  Why?  Well, I figured why not.  I mean, seriously. Since my t-shirt folks do print-to-order, if a design is simple enough, I can just throw it up on the Intermanets in a few minutes and see if anybody cares.
Plus who wouldn't want a shirt that may or may not be about boners?
(Fun story.  I designed the t-shirt for Dina in the strip thinking it would genuinely be about paleontology, but after 24 hours passed, I realized there might be unintended multiple meanings.  Which is real progress for me, because these bone-related accidental double entendres used to pass me by unawares.)
I think Dina has about as many appearances as she does items of merchandise.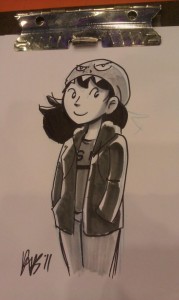 Here's one.  The rest are on my Tumblr!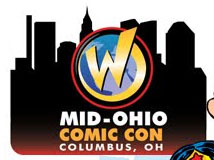 First of all, yay!  Mid-Ohio Con is this coming weekend.  Saturday and Sunday, I believe?  October 22-23rd! That is good news!  The bad news is Book 4 won't be in the States quite yet.  The big pile o' books isn't expected to reach Columbus until the first week of November… if customs doesn't flag it for being terrorism, that is.  We'll see.  But I will have Roomies! book 1 and Shortpacked! books 2 and 3, as always.  I will have an extremely limited number of Dina hats.  And finally more Dinobot "Honor" posters came in, so phew.
The bummer part is I have a big pile of deaths to announce!  Two hamsters within the past week (mommy ham and "Pirate" ham), and on Friday my grandfather passed away after suffering from Alzheimer's for a very long while.  His body finally caught up with his mind.  You'd think, since he hasn't recognized me in about over a year, that this would be easier to handle, but it still stings surprisingly.  So this Wednesday and Thursday I'll be off in Indiana for the visitation and funeral.
We have one remaining hamster from our current batch.  She used to be the most skittish and wild one, but once mommy disappeared from her cage she just sits there, depressed.  We can even pet her now, which was a near impossibility before.  She just takes it, like she's given up.  This is definitely not helping my mood.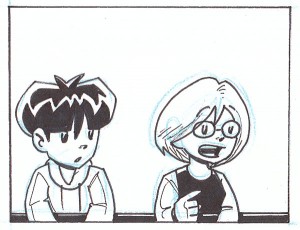 This is my earliest art of Dorothy.  I think I designed her as I drew her the first time for her first appearance.  Not something you should be doing, but it happens sometimes.
This is a panel from Joyce & Walky!'s subscription strips, so it's not something I can link you, sadly.  The panel depicts Walky and Dorothy in high school together.  (This, of course, never happened in Dumbing of Age.)
So you know it's gonna be pretty wild.  Go check it out.
The great thing about Randy is that he always makes sure to first get permission from other artists to do these things.  Me?  I'm usually in the "better to ask forgiveness" camp, and like to surprise other creators with my theft of their intellectual property.  He's an angel.  A gentleman.  And yet, his webcomic's way meaner than mine.
I'll be seeing Randy and several of my other most favorite webcomic people December 10 and 11 in Austin, Texas, for Webcomic Rampage.  If you're in that quadrant of Texas, you totally need to come.  Hopefully I won't get stuck with half a blender this time.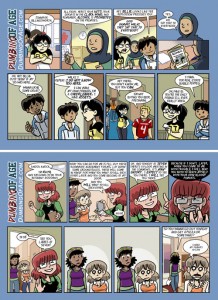 Wizard World Chicago (an amazing convention) drained me of freebie Dumbing of Age bookmarks, so it's time to stock up before the next convention.  (Mid-Ohio-Con in my hometown of Columbus from October 22 through 23!)  But rather than go with the old bookmarks, I decided to experiment with double-sided postcards for freebies.  This way I can get more comics on there.  This is good, because I don't have many stand-alone comics anyway.  Choosing two consecutive or similarly-themed comics is much easier than trying to find a solitary strip that would appeal to a random stranger.
I've ordered about 500 of them.  Let's see how they perform at Mid-Ohio-Con…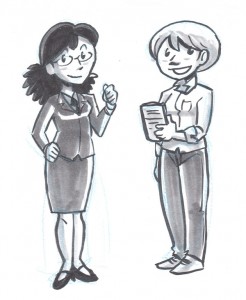 This required some digging, but here's my first drawing of both Dumbing of Age Robin and Leslie, which I believe I drew while at Animefest in Dallas last year, the week or so before Dumbing of Age premiered.  So this drawing's almost exactly one year old!
I finally get to, you know, show it, now that somebody's out of the bag.
Congresswoman Robin DeSanto in today's strip is drawn from my memory of this sketch, and so I'd forgotten that I'd drawn her with her hair down and had given her a dress shirt and tie.  Eh, no big.  I like what I ended up with.
Ever wondered what cartoonists look like in good lighting? The answer is surprisingly not horrifying. Way to raise the bar on how classy I gotta look, guys. Thanks a lot.
Anyway, this is "Stripped," a documentary about the craft of comics and the crumbling of the infrastructure that's long supported it. Dave "Handsome" Kellett of Sheldon and Drive is behind it, and that's all you really need to know to understand that this will be fantastic.