Archive for 'Blog'
242 results.
on
August 21, 2014
at
12:00 pm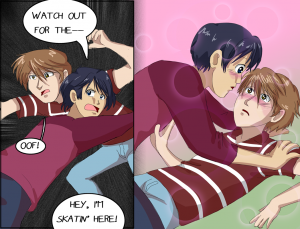 Chisci decided today's scene needed some shojo bubbles.  ENJOY THEM.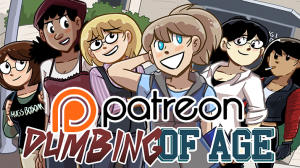 Dumbing of Age has a Patreon campaign!  That means you can donate a set dollar amount per month to get extra stuff.  For example, if you donate $5 or more, you get to see some extra behind-the-scenes stuff and more importantly you get to read tomorrow's strip a half-day earlier than everyone else!  Additionally, the campaign has passed $1500 per month, which unlocked a monthly bonus strip only for donors!
So, y'know, sweet deal.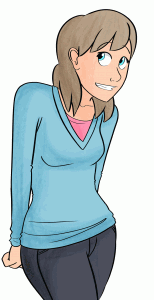 You know who Jeph Jacques is, right?  Well, if you don't, then between you and me, he's kind of a buttmunch.  Be sure to tell everyone.
Amyartofey drew the most adorablest series of images of young Walky and Sal.  I mean, look at them.  Pinches, the cheeks must have them, forever.  It's also a little heartbreaking, considering.
oh feels why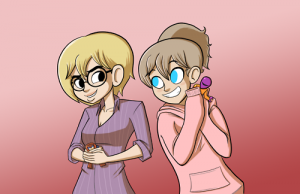 Luke Primous has drawn some Dorothy and Joyce, which I have taken from his Tumblr and placed on my own site, because I can, you can't stop me, I'm invincible.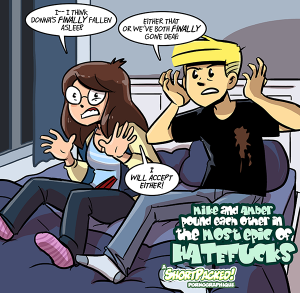 So anyway, in my comic universe which preceded Dumbing of Age, Amber is a 30-year-old mother who is married to Mike of all people, and she mostly dresses up as Amazi-Girl only for fun on like Halloween.  And her dad is dead, which is a plus.  Anyway, the Amber and Mike of that ancient trainwreck of a universe totally bang in my new Slipshine comic.  I thought you folks should know.
My current plans are to return to the Dumbiverse in my next installment.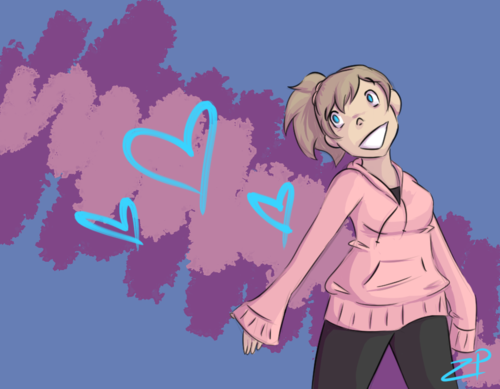 This art from paperflowers22 went from zero to posted in about six seconds.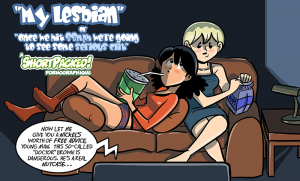 It's not strictly Dumbiverse (and by "strictly" I mean "not at all"), but Walky Performs a Sex is being followed up by another sexytimes story set in my Vintage Webcomics Universe, the Walkyverse, by way of Shortpacked!.  "My Lesbian" or "Once We Hit 88mph We're Going to See Some Serious [blank]" features (SPOILERS???) soon-to-be-wed couple Leslie and Robin DeSanto, whose Dumbing of Age doppelgangers are our favorite gender studies teacher and Roz's congresswoman sister.  It's sixteen pages and it's going live at midnight the morning of Valentine's Day on Slipshine.   If you've already got a Slipshine account, sweet!  If you don't, well, now I've provided you at least two reasons to get one.
Shortpacked!'s website doesn't really have, like, a news section anymore, nor does it update as frequently as Dumbing of Age, so, uh, have the newspost over here, I guess?
UPDATE: A short preview on Tumblr!
Lotsa Amazi-Girl goin' around recently, so here's a bunch of her in your lap!  Counterclockwise from upper left: Amazi-Girl by InTheParlanceOfOurTimes, Amazi-Girl by FancyMancer, Amazi-Girl by Fer-Guzman, and a compelling depiction of Amazi-Girl-sponsored patricide by MellyDraws.  That Danny's a keeper, Amazi-Girl.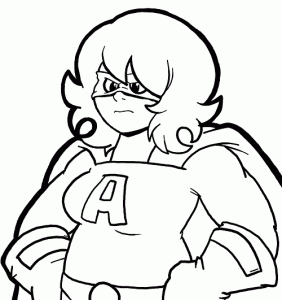 It's Amazi-Girl!  By Between Failures!  …this text is kind of redundant with the post title!