Posts Tagged 'joyce'
923 results.
Patreon didn't do the stupid thing that everyone begged them not to do, which is a huge relief to everyone.  To celebrate, just for today, all my Patrons get to see tomorrow's Dumbing of Age strip, not just the $5 folks!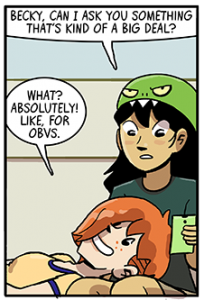 Both of November's bonus strips for are up! The first strip was decided by vote to be a Sierra strip, and the second strip is about Dina and Becky! All Patrons can go check these bonus strips out at the Dumbing of Age Patreon.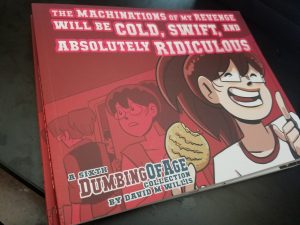 It's the holiest of Western holidays today, CYBER MONDAY! To help celebrate this festive day-of-days, if you use the code "CYBERMONDAY" (no space) for any order in my online store for the duration of today, Monday, November 27, 2017, you get 10% off your order! Huzzah!  This code works for anything: books, magnets, the works.  Offer expires Monday at midnight California time.
(note: code only works for the online store linked above — just remembered i have that second t-shirt store, which does seem to be having a separate sale going on, but my code will not work there)