I'll be at Wondercon this weekend in San Francisco!
on
March 31, 2011
at
12:13 am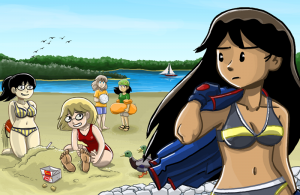 I kinda dropped the ball on building up to this con this week, what with the double-whammy of the Ethan statue preorders and my SP! book 4 fundraising blitz, but I'm gonna be in San Francisco this weekend for Wondercon!
I'll be there with Kel McDonald (Sorcery 101), and we'll be in the Small Press area, at table SP-29, I believe.  I'll have books and prints and some new posters!  The one of particular interest to Dumbing of Age readers is the "Monroe Lake" poster, which is 11″x17″ and printed on thick glossy paper.  And if you're not gonna be in San Francisco this weekend, you can order it from the store.
It's my first convention in the city where Shortpacked! takes place!  (Is there one in Bloomington, Indiana?)  I'm excited!  It's also my birthday this weekend.  On Sunday I turn 32.  If you're there, feel free to drop me some extra booze money.