Posts Tagged 'posters'
7 results.
on
March 23, 2013
at
12:01 am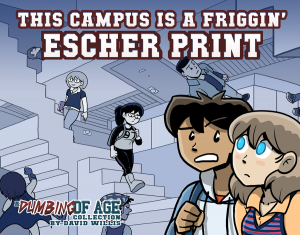 Hey, look, it's a sweet Dina poster!  It's printed on 11×17″ cardstock gloss paper, same as the ol' "Crisis" poster, and comes delivered to you in a large cardboard envelope.  Rarr!  Rarr indeed!
If you don't want the poster but want a version of the file suitable for desktop wallpaper purposes, that's an option, too.
Also, woo, Dumbing of Age Book 1 is also in the store now!  Order quickly if you want this around for Christmas.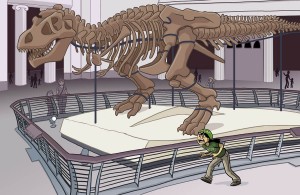 Hey, who wants a sweet Dina poster?  If that answer's you, then check out "Rarr!", which is an 11×17″ piece of work printed on glossy cardstock.  There's also a wallpaper option for you, too.  Check out the store page for details!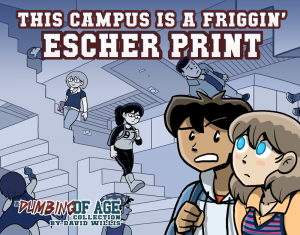 And I'm finally putting Dumbing of Age Book 1 in the store.  I'm not done sending out the Kickstarter orders, but Halloween's over and so I figgered I'd throw it up in the store anyway, what with it being Christmas shopping season now.  I'll just have to start mailing out new and old orders concurrently.  (I've got about two-thirds of the Kickstarter orders in the mail so far, which is twice the number of books I've ever had to mail out before.  Woof!  It's keeping me busy!)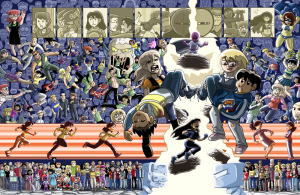 A week from Monday, on September 10, I will have been doing webcomics for fifteen years.  Dumbing of Age will also be celebrating its second birthday!  To celebrate this milestone, I have put together a limited poster!   Suffice to say, it's the busiest thing I have ever drawn in my life.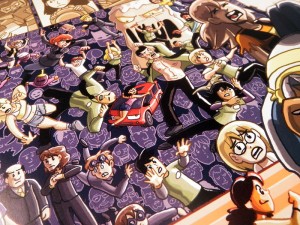 A while ago, Joel Watson was all,  hey, you should do a parody of Superboy Prime punching the universe and all the pieces scattering into the Walkyverse and the Dumbiverse.  That'd be a poster you can do.  And it was a fine idea, but it wasn't "all-encompassing work of horror" enough for me.  I needed something that would take me a month to complete.  And so I've parodied a different, better crisis instead.
As a result, every character who's ever appeared in one of my webcomics is in this thing.  I poured through my own archives day by day, grabbing folks to squeeze in here.  Some of them are pretty in your face.  Some may be less obvious, but still pretty easy to find.  Some may be essentially unrecognizable mostly-obscured heads in the background.  But they're all here.  And there's both Walkyverse and Dumbiverse versions of everybody.  (You can probably tell where the split in the composition takes place.)
It's an 11″x17″ slab of cardstock gloss craziness, and there's only 50 100 of them.  I'll number and autograph them all.  If you want one, here it is in the store.
UPDATE: I woke up this morning to find I'd sold seventy of my fifty posters, so, uh, I just ordered a second 50.
UPDATE AGAIN: They're gone!  Sold out in 23.5 hours.  Woof!
The big box landed on our porch early this morning. These "Touchdown" posters are super pretty. Look at the image on the left and check out how thick the paper is! You can see the damn edge.
I put ten of them in the mail today. Look for a big thick envelope in your postbox soon, if you're a lucky orderer. And those of you who opted to upgrade for the additional sketch, you'll find that in there, too!  I created them with pencil, brush marker, and love.
There are some "Touchdown" posters remaining (they are limited to 50 pieces), so get to the store before they're gone! Not only do you get some sweet art, but you help me and my wife afford a nice trip together.  I will be forever grateful.  She'll be forever gratefuller.
(And if  you don't want a physical piece of art, there's also a cheaper desktop wallpaper option available.)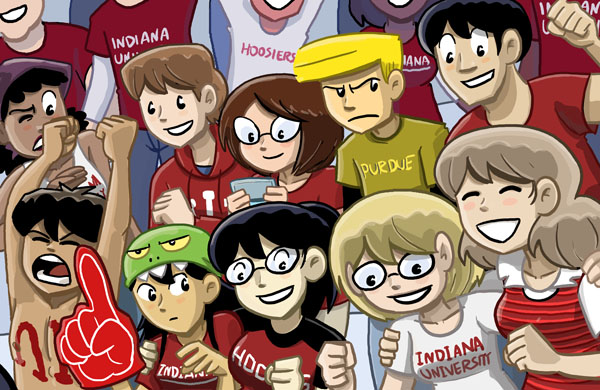 UPDATE: I've also included a pricepoint where you also receive a character sketch along with your poster.  If you've already purchased a poster and want to upgrade, let me know (wiigii at gmail) and we'll get it figured out.
Newwwww product!
My wife and I don't get to vacation a lot.  Sure, I'm on the road all the time for conventions, but usually by myself and to always to make a living, since this webcomic is my job.  So I figgered, you know what, I will make an awesome poster and put the proceeds into the Willis Vacation Fund.  Best case scenario, we'd raise enough quick enough to put in for a room for the second JoCo Cruise Crazy, which Joel Watson of Hijinks Ensue would reaaally like because he and his wife are going and he needs me around to help introduce him to famous people like Wil Wheaton, but rooms are dwindling, time is short, and, really, Maggie and I just need to get out there anywhere this coming spring. If we don't JoCo, that's regrettable, but the Getting Away is what's really important. Actually I have just been alerted by Joel that if I don't go to JoCo with him, I will be murdered.  All right.  Well, folks, that's on you, apparently.
And so we have this awesome artwork of the denizens of Dumbing of Age cheering at one of their university's football games!  Most of everyone's favorites are there, plus a few I wanted to make sure appeared in a poster who hadn't yet managed, like Danny, Amber, Mike, and Ethan.  (I'm not sure who my favorite character in this particular artwork is, since I have to choose between Mike's interesting spirit-wear choice, Walky's toplessness, and Dina's giant foam pointer.)  You can see progress shots of the artwork on my Tumblr, and the original suggestion for the theme was offered here by crazymusician320.
You can get the poster mailed to you for the fund-raising price of $20, which includes shipping within the United States, or for half that you can choose to be mailed a URL where you can download the art at desktop wallpaper size.  (I'm thinking 1280px across, but if I'm wrong in that estimation, let me know.  Easiest thing to accommodate.)  These are signed and numbered 1 through 100!  The poster will be mailed after Christmas.
Thank you for your consideration!  If you want to contribute to our vacation fund, that is great.  And if you don't want to or you can't, that is also great.  I'm just happy you're on my site reading my stuff.
(Oh, and since when I asked for poster ideas, folks kept on suggesting "beach" or "swimsuits," I should probably mention the "Monroe Lake" poster which has been around for a while.)
(Oh oh oh, and apparently I can't shut off postage fees for the wallpaper option, so if you're from outside the United States, I'll have to manually refund you that $3.  Grargh.)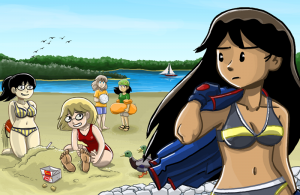 I kinda dropped the ball on building up to this con this week, what with the double-whammy of the Ethan statue preorders and my SP! book 4 fundraising blitz, but I'm gonna be in San Francisco this weekend for Wondercon!
I'll be there with Kel McDonald (Sorcery 101), and we'll be in the Small Press area, at table SP-29, I believe.  I'll have books and prints and some new posters!  The one of particular interest to Dumbing of Age readers is the "Monroe Lake" poster, which is 11″x17″ and printed on thick glossy paper.  And if you're not gonna be in San Francisco this weekend, you can order it from the store.
It's my first convention in the city where Shortpacked! takes place!  (Is there one in Bloomington, Indiana?)  I'm excited!  It's also my birthday this weekend.  On Sunday I turn 32.  If you're there, feel free to drop me some extra booze money.