Planet of the SLASH CONTEST!
on
March 8, 2012
at
8:43 pm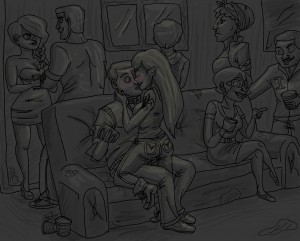 Just one entry showcased tonight, but that's because this one's a doozy.  While this entry from Colleen Farley is technically just Jason x Sal, there's a whole buncha other Dumbing of Age folks in the crowd you can pick out, if you're savvy.  And man do you gotta be savvy.  I'm gonna let you folks try, and if no one guesses them all correctly, then I'll give y'all the answer later.  Be warned, some of these guys have only shown up in one or two strips, and one of them doesn't even have a name yet!
Don't let the game distract you too much from the wonderful art itself.  I love that the only color in the piece is the blush on Jason and Sal's cheeks.