on
April 9, 2019
at
12:01 am
FINAL DAY!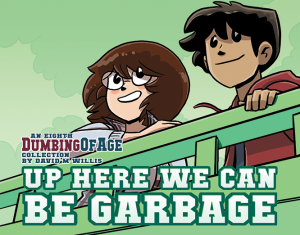 This is the last 24 hours for the Dumbing of Age Book 8 Kickstarter!  It's do or die time!
This book will collect "Year Eight," spanning the four storylines that start on September 1, 2017, and complete on August 30, 2018. This includes new commentary, behind-the-scenes artwork, 24 previously Patreon-exclusive bonus strips, and new character designs into a full-color 222-page tome with luxurious glossy paper all bound up into a sturdy presentation!

Also, now when you pledge you can get a free Dorothy magnet!  There are 11 other magnets you have the opportunity to pledge for.  You want just one?  Pledge for their tier.  You want three or five (plus the free Dorothy)?  Pledge for PICK THREE or PICK FIVE MAGNETS.  Want all 12?  Go in for COMPLETE MAGNET POWER!  Want just a PDF of the book and also a magnet (plus the free Dorothy)?  We've got that possibility, too.
It's the final countdown, guys. Danana na. Dada na na na.