on
March 29, 2019
at
12:01 am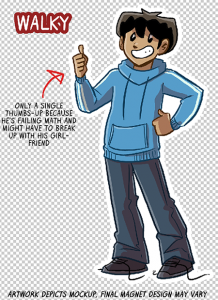 The Dumbing of Age Book 8 Kickstarter has hit $45K!  WALKY is unlocked!  Go find the WALKY MAGNET tier if you want just him, or consider him for your PICK THREE or PICK FIVE MAGNETS tiers!  And, of course, if you got COMPLETE MAGNET POWER, he is added to your pile.
I've also added a WALKY AND JASON MAGNET tier, in case you want both of them together in an easily-selectable package.
Up next is EVERYBODY* GETS A DOROTHY MAGNET at $50K.
*does not apply if you pledged only for a PDF and nothing else, but there's DIGITAL PLUS MAGNET tiers now, if you wanna fix that)