on
November 27, 2020
at
12:01 am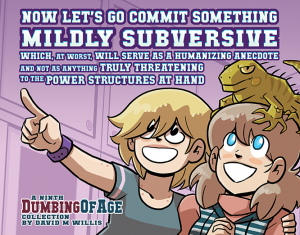 It's the day after Thanksgiving, and long-time readers know what that means:  this year's Kickstartered Dumbing of Age book collection goes up for sale in the online store!  So there it is, Book Nine: Title Too Long To Transcribe is available for your holiday purchase.   It's 216 pages, has all of Year Nine's comics (including Patreon bonus comics), bonus art and rejected strips, commentary, and has a foreword by John Kovalic!
Slightly less long-time readers know what this day additionally means: last year's Kickstartered magnets also go on sale in the online store!  What's left of them, anyway.  We're a little short on Dinobot Dinas, so she's not included, but the other 11 are in sufficient supply.  The first set of magnets is finally run out, so that's retired, but you can get a bundle of all four remaining magnet sets, if you wanna.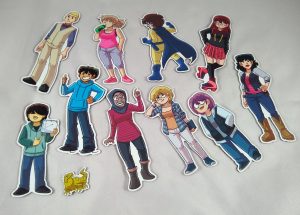 ALSO: USPS has been … not delivering me my envelopes, so unless that crate of 90 flat rate padded envelopes that's been sitting somewhere in Cincinnati according to the tracking information since Monday finally gets here, like, tomorrow, I'll be waiting at least a day to get those fresh orders out to you.  Just keep that in mind!  I mean, hopefully it'll be tomorrow.  Tracking information has been saying "tomorrow" for four days now!  Thanks, lame duck President!  Despite your kneecapping of our postal service, you lost anyway!  MAYBE YOU SHOULD HAVE JUST LEFT IT ALONE.