Book 12 final stretch goal unlocked — the DOOMSCROLLING AMBER MAGNET tier!
on
April 23, 2023
at
9:37 pm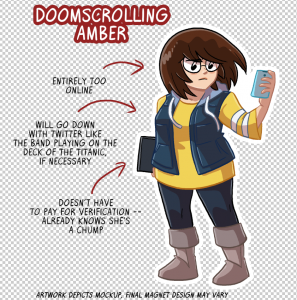 The Dumbing of Age Book 12 Kickstarter hit $55K, and that means we've unlocked the twelfth and final magnet — DOOMSCROLLING AMBER!  Amber's magnet is gonna be about 2.5″x4″ and you can pledge for her to come along with your book by selecting the DOOMSCROLLING AMBER MAGNET tier!
If you want Amber AND a handful of other magnets along with your book, you can back the PICK THREE or PICK FIVE MAGNETS tiers, or go all-in and get ALL TWELVE MAGNETS by scooping up one of the COMPLETE MAGNET POWER tiers!  (And of course if you back a DIGITAL PLUS MAGNET tier, you can choose her to come with your free Walky magnet.)
All the unlocked magnets can be seen in the spread below!  There's just 50 hours left in this campaign, so be sure to make your final selections!  We cross the finish line on Tuesday night at 11:45pm Eastern.  Pledge today!