Archive for 'Blog'
274 results.
on
January 18, 2014
at
8:50 pm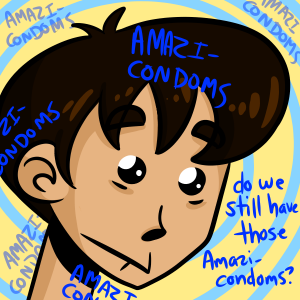 Walky's Amazi-Condom vision is appropriately rendered yellow and blue by Hobbittastic!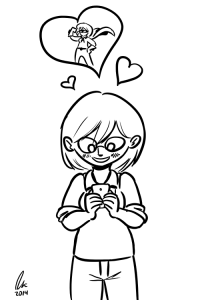 Don't worry, Dorothy, this is a common reaction to Amazi-Girl.  Art's by RWLart!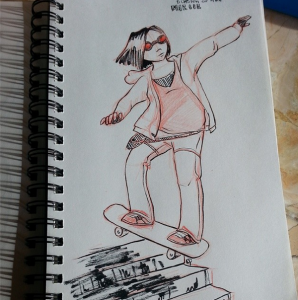 Sometimes you just really gotta draw a Marcie shredding… down the… stairs.  Oh god, I sound like Joyce, don't I?  I have no idea what I'm saying.  LOOK IT'S A SKATEBOARD OKAY AND MARCIE IS ON IT AND IT WAS DRAWN BY MEISTERJ.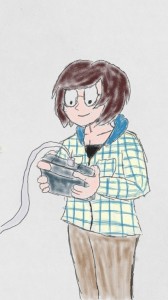 Spiffster13 drew us an Amber on a WiiU!  (she is also holding a wii u)
I think she'd approve.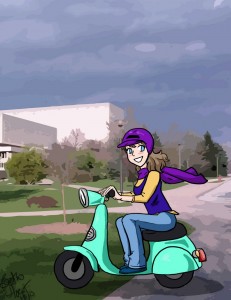 Thanks to Dreaming_Pixels, finally Joyce has reached peak rebellion — she's bought a scooter!  Suck it, norms!  I met Dreaming_Pixels, aka "Beth," in Bloomington on Wednesday.  She's awesome!  Let us dig this art, together.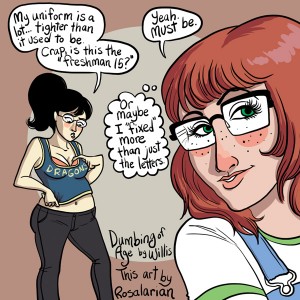 Megan Rosa"superawesome"larian Gedris (she also has a Tumblr) has designs on Ruth having designs on Billie.  Oh, Ruth, you scamp.  WILL THIS BE TONIGHT'S COMIC?  Find out in four hours, I guess!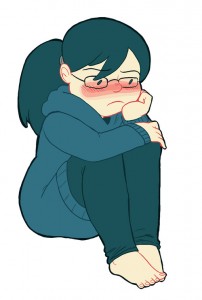 Woo, more art by Magnolia Porter!  A short while ago she alerted me to the fact that hoodie dresses exist.  Hoodie DRESSES.  This is truly an amazing and sexy time to be alive.  And so I drew Billie in a hoodie dress (and she'll definitely wear it in the next storyline, so look for that some time in, like, uh, probably March…) and then today Magnolia drew Billie in a hoodie dress.   We are all about the hoodie dresses.  Meanwhile, my wife, Maggie, told me this facial expression is called the "blushuuu," so stick that in your vocabulary.
Also don't forget to check out Magnolia's comic, Monster Pulse.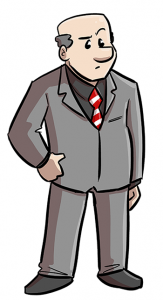 I wasn't sure if I had character model art of Dean McHenry yet, but I don't think I do, so have some now.
He's pretty short!  (And since I first drew him in like fifth grade, he seems to have kicked his cigar habit.)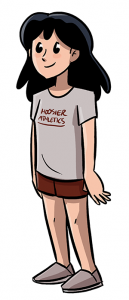 Hello, Riley DeSanto.  Your dad couldn't supply one damn Y chromosome, could he.
should have known better than to trust folks wouldn't immediately ask the INCREDIBLY IMPORTANT QUESTION as to whether she's old enough to be fucked
thanks guys
you're awful