Archive for '04 – Walking with Dina'
52 results.
My pal Gordon McAlpin is soooooo close to Winning At Kickstarter!  His great webcomic, Multiplex, with which my Shortpacked! once crossed over, is trying to print a third volume.  Go help put him over the top!  Because I have the first two volumes and I need a complete set, you see.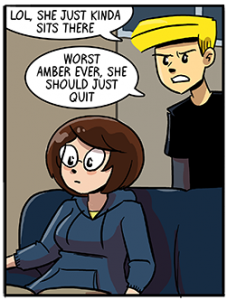 This month's comic-by-popular-vote is up on the Dumbing of Age Patreon!  Mike won the poll, so we get a Mike strip.  He's Mike!  And he's in a comic!  Also, Amber's there.
(Also folks who plege $5 or more to the Patreon get to read tomorrow's strip a day early.)