Posts Tagged 'ethan'
392 results.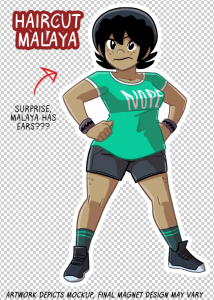 The DUMBING OF AGE BOOK 9 KICKSTARTER has unlocked a pledge tier to add a magnet of HAIRCUT MALAYA to your Dumbing of Age Book 9!
You can pledge for just Malaya, you can pledge for PICK THREE or PICK FIVE and select your squad, or you can go for the gusto of COMPLETE MAGNET POWER and get every single Book 9 magnet!
What's next at $55k?  I dunno!  I honestly wasn't expecting this to hit $50k before I went to bed tonight.  GUESS I'LL SLEEP ON IT.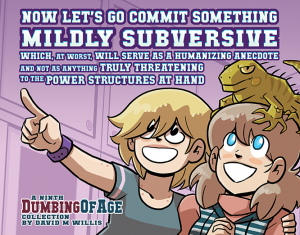 Now Let's Go Commit Something Mildly Subversive Which, at Worst, Will Serve as a Humanizing Anecdote and Not as Anything Truly Threatening to the Power Structures at Hand, aka Dumbing of Age Book 9 is now up for Kickstartering!
Book 9 is 216 pages!  It's got the usual strip commentary!  It's got bonus art and rejected strips!  It's got 24 Patreon-only strips!  It's got a foreword by Dork Tower's John Kovalic!!!