Posts Tagged 'sal'
500 results.
The Book 9 Kickstarter ended at $70,903!  Which is… jeez, this was my second-best Kickstarter total, after Book 3's $71k.  I'm honestly friggin' amazed, because with everything going on in the world this spring, I wondered if I should even BOTHER with a Kickstarter.  So, like, uh.  Thanks for making this work beyond all my expectations.
Keep safe, everyone.  And again, thank you.
Now Let's Go Commit Something Mildly Subversive Which, at Worst, Will Serve as a Humanizing Anecdote and Not as Anything Truly Threatening to the Power Structures at Hand, aka Dumbing of Age Book 9 (let's just call it "Book 9") is now up for Kickstartering!  See, it's that time of year for us again, plus a month or so, because World Be Crazy, but we're trying to do this anyway!
Book 9 is 216 pages!  It's got the usual strip commentary!  It's got bonus art and rejected strips!  It's got 24 Patreon-only strips!  It's got a foreword by Dork Tower's John Kovalic!!!  And the Kickstarter ends by the end of today!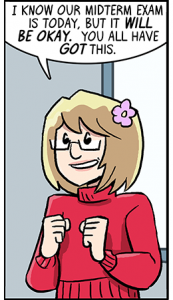 The subject of this month's first bonus strip is Alex!  Any patron can check out the strip over yonder, at the Dumbing of Age Patreon.
And remember, you can always pledge up to see tomorrow's strip a day early, every day!
Hey, I got my health insurance bill for the hernia surgery I got this summer, so, yo, if, uh, you want to buy stuff from me at my web store, that'd be really neato.
(it's not, like, a life-destroying bill or anything, aka don't worry about me, but i thought i'd drop the link anyway)