Archive for '01 – To Those Who'd Ground Me'
87 results.
This Friday, I'm going to be in Bloomington, Indiana, (aka the scene of the crime) for my annual appearance at Vintage Phoenix Comics!  I'll be signing from 6 until 8, so come on over and see me!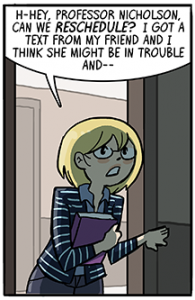 One of this month's Dumbing of Age Patreon bonus strips is a strip that would have run tomorrow but I didn't use it!  It's easily still canon and everything, I just thought it slowed things down more than it offered information.  To the left is its first panel, and you can see the rest if you follow me on Patreon.