Posts Tagged 'becky'
193 results.

Today on Slipshine: "Tales of Sinterest," a 16-page Dumbing of Age sexytimes AHN!thology featuring:
Dorothy/Walky
Roz/Joe
Bryan/Sayid
Billie/Ruth
It's up now for all members!
AHN!thology is trademarked by me, you can't have it.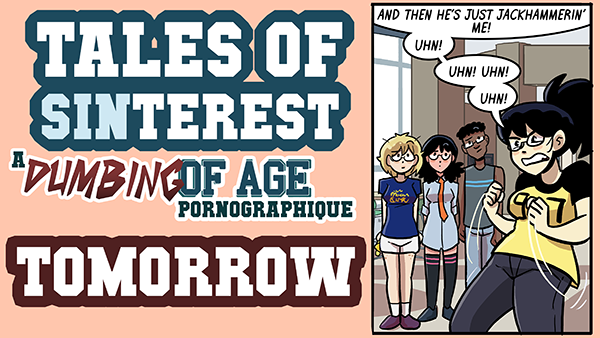 Tomorrow (Monday) the next Slipshine comic drops.  Y'know, those literally-bangin' sexytimes stories I do.  If you've got a Slipshine subscription, expect this one tomorrow!  If you don't, maybe get one!  It's a sixteen-page story that features…. everyone above.  Probably separately.