on
July 1, 2015
at
12:01 am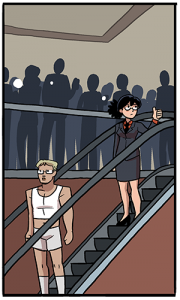 Robin won June's poll for the Patreon bonus strip!  If you're a Dumbing of Age patron, go check it out!
Also I have a second webcomic again.  It's a small side project, updates irregularly, and it'll run no more than nine months.  It's called "It's Pregnancy!" and takes place in the Old Universe.  (As such, there may be a character pairing you might not be used to if you've only read Dumbing of Age.)  Take note of the navigation arrows!  There's a small backlog of strips there, reaching back into May.  I've been updating it in secret all this time.
The new comic exists because Maggie and I are having twins.
Yup.