on
April 26, 2022
at
12:01 am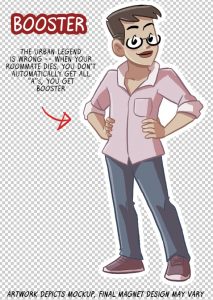 DAY ONE updates for the DUMBING OF AGE BOOK 11 KICKSTARTER
1) We funded!
2) We unlocked the BOOSTER character magnet and their corresponding pledge tier!
3) We unlocked continuing weekend updates for strips! So that's good!  Those'd lapse in, like, May otherwise.
4) We added a $100K stretch goal where I promise to stop tweeting about 9 Chickweed Lane.
Next up is unlocking free JOYCE magnets for everybody at $35K! Cross your fingers for that happening today!